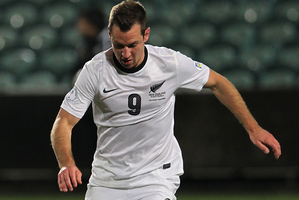 It's hard to imagine - but the All Whites could take the field without Shane Smeltz and Marco Rojas on Thursday in Mexico City.
Despite a large number of injury concerns, All Whites coach Ricki Herbert expects all members of his squad to be available for selection for the match against Mexico.
However, Rojas and Smeltz remain under a fitness cloud because of their lack of match play and are unlikely to be considered 90-minute options for the Azteca.
The All Whites team, who arrived in Los Angeles yesterday, has been one of the most injury-riddled in recent memory. Aside from the unfortunate withdrawals of Chris Killen, Tim Payne and especially Winston Reid, many other key performers have been battling sprains and strains.
The lesion list has included Chris Wood, Ivan Vicelich and Chris James as well as Rojas and Smeltz.
"It's been a challenge over the last few months but it has also allowed us to have a look at plenty of players," said Herbert. "But I am confident they are ready and when the time comes to pick this team they will all be putting their hands up."
Rojas, one of the few players who could genuinely hurt the Mexicans, remains a concern. His recovery from a stress fracture in his foot three months ago has been slow. He hasn't played for VFB Stuttgart since, but has reportedly been training pain-free for the past 10 days.
His lack of recent match practice, coupled with Herbert's inclination for attacking players with a high defensive work rate in the Azteca, means he is an unlikely starter on Thursday.
Smeltz may also be in that category. With 24 goals in 55 games he is usually one of the first picked but is still coming back from a hip arthroscopy in the off season. He completed 53 minutes for the Perth Glory on Saturday in the 1-all A-League draw with the Phoenix but might still be short of a gallop.
Wood was out for more than a month with a hamstring tear. He returned to action for Leicester's last two matches but doesn't have the fitness base he would normally count on at this stage of a season.
Chris James had a groin injury which ruled him out of the most recent tour to North America while Ivan Vicelich was sent home from the same tour after aggravating a quadricep strain.
Players took the opportunity for various recovery sessions on arrival yesterday - ice baths, pool sessions and massage - before training gets under way today.