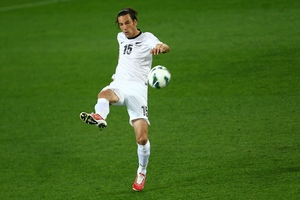 He "retired" more than five years ago but Ivan Vicelich will be a key figure for the All Whites on Thursday.
When Vicelich announced he was quitting international football in August 2008, Helen Clark was still Prime Minister, Kieran Read was yet to play for the All Blacks and Lorde was studying at Belmont Intermediate school in Devonport.
Then 31, Vicelich had returned home from eight seasons of professional football in Holland and was about to start a family.
"It's never an easy thing to walk away from the All Whites jersey but I feel the time is right," Vicelich said at the time, adding that he wanted to give younger players a chance in the national set up.
In May 2009 he returned - answering an SOS from Ricki Herbert after an injury to Ryan Nelsen before the Confederations Cup - and has kept the youngsters at bay ever since.
It seems improbable - he's 37 and playing amateur football - but Vicelich remains the favoured choice as holding midfielder alongside Michael McGlinchey, after performing the role in tandem with Simon Elliott in South Africa.
Tim Payne's injury has thinned the stocks, and Chris James, Jeremy Christie, Aaron Clapham and Jake Butler have not yet managed to leap ahead of the Auckland City captain.
He is also a defensive option, especially with Winston Reid unavailable and Andrew Durante's international inexperience.
"Retirement felt like the right thing to do," recalls Vicelich. "I didn't know if it would be sustainable to play at that level [NZFC] and I had no regrets."
Now it feels as if he has never been away. He still polarises fans - many thought him too old even in 2010 - but he remains the ultimate professional.
Nelsen once called him a "manager's dream" for his ability to trot out "seven out of 10" performances, game after game. He's neither flashy nor fast but Herbert is a big fan. "Ivan never misses a beat," he says. "He brings that cool, calm, collected approach and a lot of experience to the group."
Vicelich won't countenance debate about his age.
"They said the same about Simon [Elliott] and he was one of our best [in 2010]," says Vicelich. "Age is age and I will keep putting my hand up for selection. I'm proud of the standard that I have maintained."
Last week Vicelich played in front of a few hundred against Waitakere United; on Thursday it will be 105,000. "I've learned to 'flick the switch' between the NZFC and the All Whites," says Vicelich. "I approach every match the same way but you need to step up in international football."
Vicelich has played in Mexico before - part of the 1999 Confederations Cup team that performed credibly against the USA (1-2), Germany (0-2) and Brazil (0-2) - but expects a different reception this time. "They loved us in 1999. It will be different this week but we have to face up to that. We need to create an upset. It's about extreme effort, focus and having a bit of fortune on our side."