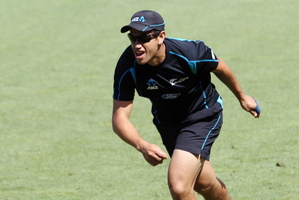 As much as I despise the way India has used its strength to manipulate world cricket to suit itself, I immensely respect the quality of the Indian cricketers.
I was in awe of Rohit Sharma who followed his ODI double hundred against Australia with a test hundred on debut. It wasn't just a hundred, it was a hundred under pressure, when his team desperately needed something, a match-winning hundred. It was a hundred played at test match tempo and all this in his first test innings, following an innings played at 200 miles an hour.
The cricket community fears the monster that is Indian cricket but it would serve the players well to revere the Indian cricketers.
For this reason, I just can't understand the logic behind not sending Ross Taylor to Sri Lanka and even though Brendon McCullum is now injured, I also can't fathom the original decision to have him stay in New Zealand, too.
Apparently these two need 'red-ball cricket'. Granted, red-ball cricket is different from the requirements of limited overs play but these two don't need practice; they need to front for New Zealand. They are internationals and should be playing international cricket under the pressure only that brings.
This is the biggest issue facing our team; key players are not delivering often enough. They are consistently our best at provincial level but are far from the best internationally.
Okay, our specialist test players would be better served playing rather than running drinks out but we have few specialists and don't have the wealth of talent to have an abundance of same. What we desperately need is our best players playing all forms - and well.
Let me rephrase that - what we need is our best playing international cricket well.
Arguably, this rather A-looking New Zealand team headed to Sri Lanka may build a little international experience for some younger players and as a result a little depth - but building depth is not the priority right now.
Senior players performing at world-class level on the world stage is the priority - I'm not sure Ross Taylor scoring for Central Districts is the right way to achieve that.
Taylor could go great in the test series against the West Indies; McCullum's enforced rest could pay dividends and be the tonic for his form slump. But, in a way, that's not the point.
The point is I don't believe it does this country's cricket any favours to feel it's okay to rest key players from internationals and turn up on foreign soil intentionally understrength.
Quite simply, it is not okay to lose.