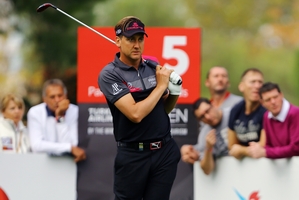 In between cries of 'get real' and 'get in there' the essence of Ian Poulter is revealed. The cleanest striker of a golf ball, Poulter is not, but on the greens he punches like Mike Tyson in his prime and on his day he is never out of the running.
A second successive 66 in the second round of the Turkish Airlines Open gave Poulter a share of the halfway lead on 12 under par in a group that includes the irrepressible Henrik Stenson, bidding to win the European Tour's Race To Dubai to add to the US$11.4 million ($13.8m) he won this year by becoming the first European to win the FedEx Cup.
If Stenson takes out the Dubai honours, decided after this tournament and in Dubai next week (where the winner of the DP World Tour championship will pocket US$1.33m or $1.6m), he will add about 4m ($6.5m) to his bank account - a satisfying outcome, if it happens, as Stenson lost US$8m to financial fraud two years ago, leading to his plummet down world rankings.
A visiting dignitary from the United States, one Tiger Woods, is a stroke further back after shooting a course-record 63. Woods missed four birdie putts from inside 10 feet, substantiating his claim that he might have posted something really special - the 59 he might have hit and which has never been recorded this side of the Atlantic.
"If you look at the round, I missed four putts that I really should have made. Other than that it was a really good day," Woods said.
Woods should have had Poulter's aim. The par-three 16th was Poulter all over: farthest from the pin off the tee and first in the hole from 40 feet. Get in there, indeed.
Playing partner Lee Westwood was gun-barrel straight all day and finished four shots adrift of Poulter. We have heard that story before. "Get real," Poulter howled as his tee shot at 16 drifted left on the breeze. The putt never looked like missing. "I got it going on line and it dropped right in the middle of the hole," he said.
Stenson is playing virtually one-handed as his injured right wrist severely curtails practice. Yet on he soldiers towards a Race to Dubai finale he is favoured to win.
Poulter is more than 500,000 ($811,000) adrift, but with three times that sum accruing to the winner here and next week at the DP World Tour Championship in Dubai, the Englishman, who has halved the deficit to Stenson in the past two weeks, is not only refusing to concede defeat, he is backing himself to reel in his man.
"I told him I'm going to chase him down because he was so far in front," Poulter said. "I like to make these silly things and he said he'd like to take the bet on. I said I need some odds. He gave me 10-1 so I had a little 100 bucks.
"I also said that if I did manage to pass him, we will have a nice night out and he will have to pour my drinks for the evening. I think 1000 bucks isn't an issue to him but pouring my drinks all night might be a big problem."
Said Stenson: "Poulter is not wrong. If he catches me, I can only pour them with my left, so he's going to have to hold the glass himself. I can't go full on with my practice. Even if I wanted to hit balls after the round, it's not going to happen."
Only 10 players in the 78-man field go into the weekend over par. The climate reverted to the eastern Mediterranean November norm with temperatures reaching the mid-20s. A course softened by the first-day rain rolled over accordingly.
Returning at 8am to finish a first round that had eight holes to complete, US Open champion Justin Rose began with a bogey to drift to level par, eight off the clubhouse lead. It was his only dropped shot in 26 holes. Rose recovered to post a second-round 66 and join Westwood on eight under.
- The Independent