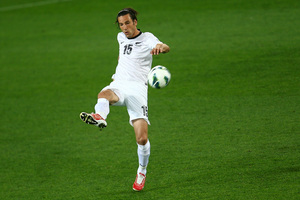 The All Whites' return World Cup qualifying match with Mexico next week could turn into farce, thanks to a major Oceania Football Confederation blunder.
Already lacking one key defender in the injured Winston Reid, central defensive linchpin Tommy Smith is one of 10 players who could miss the return match if he suffers a yellow card in Thursday's game.
With coach Ricki Herbert likely to adopt a defence-minded approach, defenders like Smith become more likely to cop such a card - meaning they would be suspended for the match in Wellington.
New Zealand are already massive underdogs - but remove the likes of Michael McGlinchey, Jeremy Brockie, Chris Wood, Shane Smeltz and Smith (who are among the 10) and it could become a mismatch.
The situation has arisen due to an OFC decision which could be called a miscalculation but looks like a dud decision.
Fifa allows each confederation one opportunity to clear all yellow cards from players' records during their qualifying process. OFC decided to use that sole chance before the Oceania Nations Cup in Honiara in June last year, approving an application fromSamoa.
As the winner of stageone (against Tonga, the Cook Islands and American Samoa), the Samoans earned the final berth at the Nations Cup but lost all three group games there, conceding 24 goals and scoring one.
"We had a request from Samoa and decided to proceed with that one to Fifa," OFC director of competitions David Firisua told the Herald on Sunday last year.
"It wasn't an easy decision - but we didn't want to have any perceived bias towardsany team."
That means yellow cards picked up in New Zealand's Nations Cup games and World Cup qualifiers are still alive now.
OFC could have cleared the slate at the end of qualifying, giving the top Oceania side thebest possible chance.
The All Whites then could have progressed through the two-leg play-off against their Concacaf opponent without the pressure of suspensions - surely World Cup qualification is OFC's ultimate goal.
All Whites players missing the biggest match on New Zealand soil would be a massive punishment for an incidental crime but could well be realised. Picking up yellow cards is an almost unavoidable part of the modern game, especially for defensive players.
The chances will be much increased on Thursday, with the All Whites expected to be under pressure for long periods. Others one yellow card away from suspension are Ivan Vicelich, Tony Lochhead, Leo Bertos, Rory Fallon and Aaron Clapham.
"In the context of the length of the competition, it was an unfortunate decision," said All Whites coach Ricki Herbert. "It would have been much better to clear across the board at a latter stage."
"As players, we have to put it out of our minds," said Vicelich. "No one wants to miss a game but also nobody is going to pull out of a tackle they might be required to make."
OFC picked up a gong at the Peace and Sport awards in Monaco last week. They also deserve a trophy for administrative blunder of the year.
New Zealand Football is set to bank at least $5 million from the return World Cup qualifying match against Mexico in Wellington on November 20 - one of the biggest rights deals for a single match in New Zealand sporting history.
Sources in Mexico have confirmed the huge sum. The rights have been sold to a Mexican broadcaster, who will then on-sell them to various companies across the Americas and Europe.
It is also understood that five Mexican channels are coming to New Zealand for the match and bringing full production teams.
An illustration of the huge interest in this match and World Cup football in general is shown by the fact that the corresponding match in 2009 netted less than $500,000 in TV rights.
New Zealand's performance at the 2010 World Cup - undefeated in pool play, including a 1-1 draw with powerhouse Italy (though the All Whites did not progress to the knockout phases) - heightened interest in the TV rights.
The fee will be some consolation to NZF - Mexico are ranked high in world football and are hot favourites to beat the All Whites in the first leg in Mexico City on Thursday morning before the return leg in Wellington.