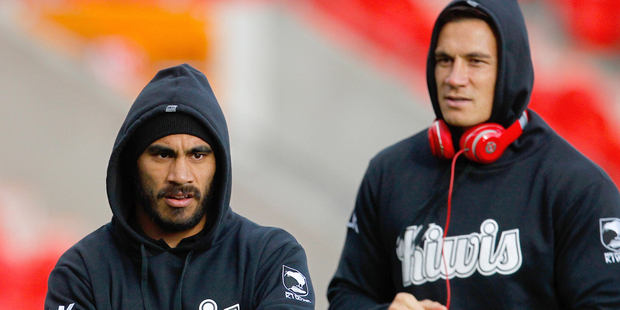 NZ Herald's rugby league writer Michael Brown answers three big questions following the Kiwis 56-10 win over Papua New Guinea at the rugby league World Cup this morning (NZT).
Are easy games like this helpful before the Kiwis get into the serious stuff?
It's not that different to a rugby world cup, when the All Blacks cruise through pool play, and it will help combinations and understanding. The Kiwis have played some excellent football at times in this tournament - just not for 80 minutes - and it will be easier for them to maintain their standards when the stakes are a lot higher. Their first-half performance against Papua New Guinea was excellent. They completed 95 per cent of their sets, made only one error and had 65 per cent of possession. They would probably have been on top of any side in the tournament playing like that, although admittedly it was against inferior opposition. Sonny Bill Williams was also sublime. He was virtually unstoppable as he ran in three tries and showed why the Kiwis went out of their way to include him in their squad.
Can the Kiwis win the World Cup without Thomas Leuluai?
It will be harder. Leuluai was a key member of this Kiwis squad - almost the perfect No 14 - because of his ability to play at both hooker and in the halves. He's also very experienced after 31 tests and eight years playing in the UK Super League. Depth is always tested in a long tournament and injuries always occur but there will be some nervousness now within the Kiwis camp about what they would do if Issac Luke, Shaun Johnson or Kieran Foran got injured.
Is there any serious concern about the Kiwis concentration after another patchy second-half performance?
It was a little sloppy but the Kiwis made a number of changes in the second spell because of injuries which affected their shape. At the end Sonny Bill Williams was playing five-eighth, Roger Tuivasa-Sheck was at fullback, centres Dean Whare and Bryson Goodwin were on the wings and Elijah Taylor was playing at centre. Sometimes it can be hard to maintain standards when a game is well and truly won - and the Kiwis led 40-0 at halftime - and they aren't too concerned about what happened in the second half. It needs to be remembered the first half was probably the most impressive of any side at the World Cup.
- APNZ