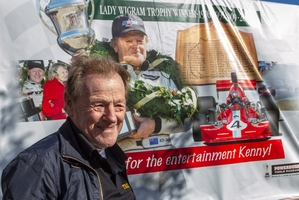 The evergreen king of New Zealand motor racing, Kenny Smith, will be marking the 40th anniversary of the opening of Manfeild by competing in his 40th season at the Feilding circuit.
Super-veteran Smith is contesting the opening round of the MSC New Zealand F5000 Tasman Cup Revival Series, and the 72-year-old is fired up by the thought of getting back into race competition.
This year is the 40th anniversary of the opening of the 3km track, and Smith will be the only competitor at The Sound MG Classic meeting who has competed there every year since 1973.
"I didn't do the very first meeting they had there, but I did the big one that summer and I've been going back ever since," said Smith, who is about to start his 56th consecutive race season.
"Pukekohe was my local circuit, but Manfeild was my favourite ... When Robbie Lester and his wife Wendy promoted it - they were the best - they really looked after the drivers and made sure everyone was happy and it was like one big happy family.
"It's like a second home to me, plus it's good for the spectators because they can see all of the track from the grandstands, rather than just one little bit of it."
Smith is a three-time former F5000 series champion, and he's piloting a Lola T332 similar to the one he raced in New Zealand and Australia in the 1970s.
He thinks Manfeild is one of the best circuits to race on, as it's technical but also fast.
"It's a good circuit where you can see every corner when you arrive at it. The layout of it is good and it has a good atmosphere.
"Some circuits grab you as soon as you drive them and get better the more time you spend on them while others just have no atmosphere."
A date clash with the Highlands 101 endurance race at the new Highlands Motorsport Park in Central Otago means defending F5000 series champion Steve Ross and 2012/13 series race winner Clark Proctor will not be on the grid at Manfeild this weekend.
But Smith will not be having everything his own way.
"Everything should go all right, and we'd like to be right up at the front in the firing line and we should be," he said.
"A lot of pressure will come from Andrew Higgins in his Lola and that's what I want. I like a challenge and having some pressure put on.
"Last weekend was great as I won my fifth Lady Wigram trophy and we're now ahead [more wins] of anyone else at that great event."
Series youngster Higgins was impressive in the previous two rounds of the F5000 Australia Cup series, and former MSC series champion Ian Clements, from Christchurch, is more than capable of taking the battle to Smith and company.
Also entered are 2011/12 series runner-up Aaron Burson, former Lady Wigram Trophy winner Roger Williams, Talon MR1 driver David Banks, 2011/12 series third placeman Brett Willis and series returnees Sefton Gibb, Tony Richards from Christchurch, as well as Russell Greer Class A (for older cars) standout Alan Dunkley.
Dunkley is a real crowd-pleaser in the only high-wing car (a 1968 Lola T140) in the MSC field and Smith, for one, rates him highly.
"They're certainly aren't many people who can push one of those old cars round like he can. He always gives 110 per cent," he said.
Manfeild suits the big bellowing F5000 cars, and has plenty of passing places to keep the drivers on their toes and the fans entertained.
"There are probably six places you can pass at Manfeild," said Smith.
"Despite the fact it's got tighter corners than most other tracks, there are a few places you can dive in on other drivers. There's no need to worry about passing here, it's probably got more places than Pukekohe to get past someone."