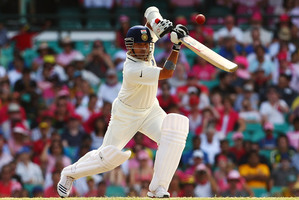 What a delicious irony. The greatest Indian batsman sawn off as the clock ticks loudly on his farewell and unable to call for the Decision Review System.
Call it a case of the biter being bit, not Sachin Tendulkar but Indian cricket.
There he was having made his way to 10 at Eden Gardens in Kolkata on Thursday when he was given lbw to offspinner Shane Shillingford by English umpire Nigel Llong.
More than likely he'd have been reprieved if he'd had the ability to seek one. The ball would have bounced over the top of the stumps. But Indian officials won't wear the DRS at any price.
Tendulkar doubtless pondered this as he trudged back to the pavilion, gently banging his bat on the ground, accompanied by a barely perceptible shake of the head.
At the World Cup two years ago, Tendulkar got a reprieve against Pakistan's clever Saeed Ajmal in the semifinal only due to DRS.
He was on 23 and had been given out.
He went on to a crucial, even match-winning 85 in India's 29-run win. Without that, there'd have been no rejoicing a few nights later after the final.
If you thought India's administrators and senior players would have been persuaded that perhaps there is something to this DRS after all - all the while acknowledging it ain't perfect - you'd be wrong.
So now Tendulkar has just three - maximum - innings left in cricket, the second innings at Kolkata and his final hurrah at his home ground in Mumbai, where he honed his skills, next week. Then he'll be gone for good.
There are others coming through in Indian cricket. Virat Kohli is already whizzing along in ODI cricket, with 17 hundreds in his first 119 limited-overs internationals.
(And remember when 119 matches would have been a substantial pile. The cocky but classy Kohli, still only 24, is on track to push for 400).
Rohit Sharma made his first innings in test cricket special with 177 over the last couple of days. India is loaded with batsmen.
In a sense Tendulkar, now 40, was becoming something of a block for the young talent coming through. It was time to go.
Truth be told, two fifties in his last 21 test innings point to a fading of the once magical talents.
But who'd be the Indian selector brave/stupid enough to make that call?
Indeed, a century at Mumbai would be a fitting final bow. His recent productivity notwithstanding, you wouldn't bet against it.
So if you get the chance to catch his last innings, do so. There's a real chance you won't see his like again.