Ground is where in 2004 he announced himself as a first-five to the world.
For Dan Carter, it's time for a little reminiscing. The major milestone of his 100th test will be talked about at length next week but there is no escaping the significance of tomorrow morning's test at the Stade de France either, and his increasing nervousness suggests he for one has not.
This is the ground where he announced himself as a first-five on the world stage for the first time in 2004. Selected at No10 by Graham Henry, the pressure was on Carter to adjust to the role in only his third appearance there for the All Blacks after moving from second-five, and he duly delivered, scoring 23 points in his team's 45-6 demolition of France, then the Six Nations champions.
"Back in 2004 it was a big game for the All Blacks, it meant a lot and we were really happy with how we played," he said.
"For me personally, I had only played about two test matches at first-five. I was pretty nervous and wanted to play well. A few years down the track and [there is] a similar feeling.
With the season I've had, I can't wait for Saturday night and the challenge ahead.
"Some games I get more nervous than others but I love those nerves. It means I'm ready for a big match."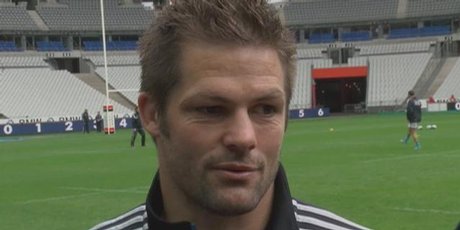 Calf and shoulder injuries have limited Carter's test appearances to only four this year. It has been a frustrating time for him - it's not the season he wanted as he counts down to his impending sabbatical.
The injury issue also has connections to this ground for it was here in 2009 during his first sabbatical that Carter suffered his Achilles tear when playing for Perpignan. Since then a growing file of groin, hamstring and calf problems, plus a broken hand, have contrived to test his patience to the limit.
That's where the nerves come in.
"I haven't had a chance to play. When you're lacking game time and have had the injuries that I've had, it's about not wanting to let the team down. They've built some awesome momentum throughout the year and I've been part of it in stages but not a lot. It's more for personal reasons, wanting to get back to the level I know I can play at and am happy with."
The hand injury meant Carter played only the third test against France in June, an untidy victory in New Plymouth in which the 31-year-old was critical of his performance.
His Rugby Championship appearances were limited to the Argentina match in Hamilton and the Springboks test in Auckland where he was pole-axed by Bismarck du Plessis. Last week's run against Japan in Tokyo represented his return, Aaron Cruden and Beauden Barrett having enjoyed their share of the spotlight in his absence. Both are staking increasingly valid claims for Carter's jersey.
However, Carter's presence is a reassuring one for Ma'a Nonu, who must quickly gel with new centre partner Ben Smith in order to see off the threats of impressive opposites Florian Fritz and Wesley Fofana.
"I've had the pleasure of playing next to Dessie [Carter] for a long time," Nonu said. "It's comfortable in terms of knowing each other and reading [each other] but you can't get too comfortable. It's all about trust, really, and it's good to see him back."
It's a sentiment matched wholeheartedly by Carter.
- APNZ