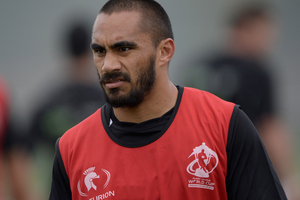 The Kiwis hope to circumnavigate UK authorities and have appealed to Drug Free Sport NZ to treat Thomas Leuluai's groin injury with a drug the UK Anti-Doping agency prohibited them from using.
Leuluai injured his groin in the team's first training session after arriving in the UK and, while scans have cleared him of major damage, hasn't played any part in the World Cup to date.
That looks set to change tomorrow morning (NZT), with the 28-year-old likely to play against Papua New Guinea in Leeds after taking a full part in training overnight. He wasn't originally named in the 19-man squad to play their final pool game but coach Stephen Kearney is eager for Leuluai to test his injury and get some valuable game time ahead of next weekend's quarter-final.
Leuluai received a cortisone injection for his osteitis pubis injury a fortnight ago but it didn't work as effectively as hoped.
The Kiwis medical staff were then keen to give him a dose of prednisone, a synthetic corticosteroid used to treat inflammation and help with pain management. Given Leuluai is subject to routine drug testing, they had to apply to the UK Anti-Doping agency to use prednisone but it was turned down.
"They turned it down saying it had potential advantageous affects on his general performance," Kiwis doctor Simon Mayhew said. "We disagree with that. We think it will help him return quicker to playing fitness and the chances of doing any harm are very, very remote.
"They are concerned about the steroid aspect, the muscle-building aspect of it."
Far from being dissuaded, Mayhew lodged an application with Drug Free Sport NZ on Thursday night (NZT). It will go before a panel made up of three medical advisors who could make a decision as early as today.
"He's a New Zealand domiciled player so we can go to Drug Free Sport NZ and make an application," Mayhew said. "They might agree with UK Anti-Doping.
"I think there's a reasonable chance they might accept it, that this is a reasonable and safe treatment and is not going to give him some advantage over his opponents in terms of anabolic steroids because it's not an anabolic steroid."
Mayhew believed they would be free to administer the drug if they got approval from Drug Free Sport NZ.
"Yes, that's my understanding from the tournament's medical director," Mayhew said. "The medical director was surprised it was turned down. He said if you get approval from a national anti-doping agency, then he would accept that."
The Kiwis have managed well without Leuluai to date but his experience and leadership is seen as critical. He would also be an ideal player to carry on the interchange bench because of his ability to play at hooker, and cover for the impressive Issac Luke, as well as in the halves.
Kearney recognises his importance in the defence of the World Cup they won in 2008 and is concerned about the fact Leuluai hasn't played since the Warriors' last game on September 7.
"We had a bit of a think about his position and thought it would be best to give him an opportunity to play tomorrow night," Kearney said after the captain's run at Headingley.
"Given the importance of next week's game... at least we will know where he's at.
"He moved alright [in training]. He feels confident, which is really important. It's a matter of seeing how he pulls up from the run today but I'm confident."