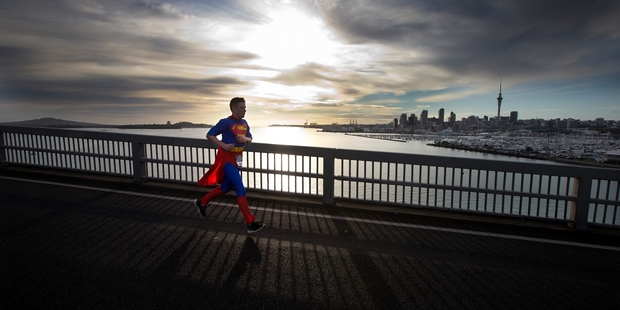 Review: Auckland (half) marathon
Reviewer: Rob Cox
The ride to the start line at 5:30am was sobering and quiet. The smell of vaseline wafting around the crammed bus added to the tension.
On arrival, most of us raced straight for the loos. There were plenty available, but 10,000 people at once was a test. One poor guy was ushered to the front. He looked so cross-leggedly desperate that people started waving down the St John team. I think I even saw tears.
The start is so packed that when the gun goes off, you don't move for more than a minute, then the shuffling of feet begins, then you creep into a slow jog, then another couple of minutes later you cross the start line.
The sound of thousands of runners, jogging along the streets of Devonport at 7am is worth getting up for.
One poor old chap trying to cycle the opposite way had a bewildered look - why was it suddenly so difficult to nip down to the shop for the paper?
I had a strategy: enjoy it and make it home in one piece. My mate and I took full advantage of the drink stops. There were two choices of beverages - water and a flavoured power drink. Both were outstanding.
I was fairly stuffed when we got to the top of the Harbour Bridge. A course change allowed us to run up the city side of the bridge, taking in all of the city, Devonport and beyond, and what a pleasing difference that made. The view slowed us down and added at least another two minutes to my final time (excuses).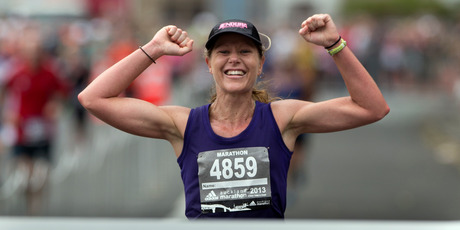 The last 4km of the half marathon was the most unpleasant of the lot, but as you get near the finish there are thousands of supporters lining the streets cheering you on, all strangers, and it's just the buzz you need when you're running out of gas.
Then after weeks and weeks of training (well, three) you waddle across the line, cramp up and head straight for the massage tent.
A few days later, the marathon team emailed me a dozen images of my mate and I during the race. We both had talked about how good we felt during the race. These photos begged to differ - they looked more like casting shots for the next series of The Walking Dead.