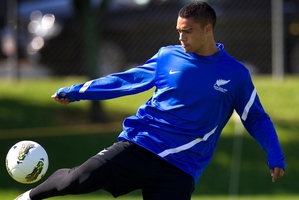 The biggest blow to the All Whites in decades. With the timing and circumstances of Winston Reid's withdrawal from the All Whites after injuring an ankle in training, it is easy to get carried away with hyperbole but Ivan Vicelich provides some context.
Vicelich, who made his debut in 1995 and is the most capped All White, is unequivocal with his assessment.
"There have been a few bad ones [over the years] but I think this is the biggest blow," said Vicelich. "Especially on the eve of the World Cup qualifiers. It is not going to be great [and] it won't help our belief, though we will bounce back."
It's hard to think of a comparable loss at a similar time. Just before the 1982 World Cup finals Grant Turner snapped ankle ligaments in training and was sent home, missing all three games in Spain after being a key part of that epic qualifying series.
Ryan Nelsen missed some important matches over his career (especially the 2009 Confederations Cup) but was there for the 2009 qualifiers against Bahrain and the 2010 World Cup.
Veteran midfielder Simon Elliott was ruled out of the Bahrain clash in Wellington, though Michael McGlinchey deputised well that night.
Despite the growth of the game in the past decade, the All Whites still rely on a small talent pool and Reid is top of that list. There is arguably no one more valuable in a New Zealand team sport.
"He has grown as a man and a player," says Vicelich of Reid. "When he needs to turn it on he just switches the switch and you can see why he is being chased by Arsenal."
Reid is the marshal of the New Zealand defence, the man who could stand up to any international striker and not be intimidated.
"When he first came into the team he was a quiet Maori boy, kept to himself," says Leo Bertos of Reid. "But his game has improved out of sight, he has got stronger and quicker. He's also developed that rare quality of being able to lift other people's game."
So, where to now? The All Whites have put on a brave face, and have talked about other players "stepping up" . Vicelich makes the valid point that the All Whites have a lot of grit; they often have to face major obstacles, and this is "another bump in the road".
Hopefully it doesn't lead to a dead end. Ben Sigmund is the most likely candidate to replace Reid in the starting lineup. No one can question Sigmund's commitment and passion for the cause but he would be targeted by Mexico and was badly exposed in the 2-0 loss in 2010.
Vicelich is probably a better choice, and a trio of Tommy Smith, Andrew Durante with Vicelich sweeping looks more balanced and offers more experience. That will be considered by coach Ricki Herbert but would present another problem; who to play as a defensive midfielder?
Vicelich was the likely option beside McGlinchey and with Tim Payne unavailable none of the other contenders (Jeremy Christie, Aaron Clapham or Chris James) appeal, though Bill Tuiloma could be a left field choice. Michael Boxall (seven caps) is another possibility but he hasn't always convinced at international level.
Herbert might elect not to add anyone to the squad, preferring to keep some fresh legs here for the return leg in Wellington rather than subjecting another player to the gruelling travel demands. It could open the door for Cameron Howieson, to allow Herbert to add depth to midfield.