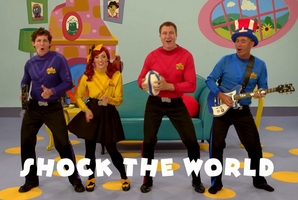 1. Getting down
The bond between players at this World Cup has been noteworthy but the Kiwis and French took it to a new level last weekend. Soon after New Zealand beat France 48-0, the players visited the home dressing room for a couple of beers and, as so often happens, one thing led to another. "I came back from the press conference straight into what I thought was a nightclub," France coach Richard Agar was quoted as saying in the Sydney Morning Herald. "But a very smelly one full of naked blokes."
2. Rooney plea
England are in disarray, what with one player dismissed and another withdrawing from the squad and now forward Ben Westwood has appealed for help from Manchester United striker Wayne Rooney. Westwood needed 15 stitches to a head wound in the 28-20 defeat to Australia, which came on top of the nine he needed in Warrington's Super League grand final loss to Wigan. It prompted him to appeal to Rooney to borrow the skull cap he used after cutting his head.
"The latest cut goes right in to the middle of my head," Westwood told local reporters. "So, if you've still got the headband, Wayne, give us a shout."
3. Keeping cool
The English press can be savage at times, and a number of them have dined out on the off-field offerings of the England side that started with Gareth Hock's expulsion from the squad for breaking team protocol. It has been a tough time for coach Steve McNamara but he offered a unique response when asked how he relaxed ahead of Sunday morning's (NZT) crucial match against Fiji. He said he would "go home and read the press. It chills me out". It's a bit different from the many others in England who have said it leaves them cold.
4. Get wiggling
The Wiggles shocked the world with their bright, coloured skivvies when they formed in 1991 and now they have penned a song titled USA Tomahawks Shock the World. The quartet - only one original is still wiggling after the other three retired last year - posted the song on YouTube this week and it has been a sensation. Turns out Blue Wiggle, Anthony Field, is a friend of David Niu, who has played a key role in popularising the sport in the US.
5. Mountain man
In the music video, The Wiggles called for Joseph Paulo's face to be carved on to Mt Rushmore. Paulo has registered four try assists in the World Cup, joint top in the video according to statistics provided by Opta. New Zealand prop Ben Matulino made 208m against France last weekend, which was well short of the 325 Konrad Hurrell made for Tonga, but the most at this World Cup without making a clean break. Maybe an image of his face could be carved on to the hills above Lower Hutt, where Matulino hails from.
6. Taking flight
Few people expected the US to last long in their first World Cup, least of all tournament organisers who booked them on a flight out of England one day before the final game in their pool between the Cook Islands and Wales. They had been at odds of 90-1 to make the quarter-finals and their success has even made the New York Times. What is even more remarkable is the fact that coach Terry Matterson took over only three weeks ago and had to Google most of the players to learn about them.