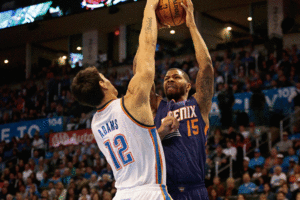 Steven Adams, seen here against Phoenix, had his best game yet in his short NBA career, scoring six points and grabbing nine rebounds against Dallas. Photo / Getty
Eight-time NBA All Star Vince Carter has apologised after being ejected for elbowing New Zealand rookie Steven Adams in the face during the Dallas Mavericks' defeat to the Oklahoma City Thunder yesterday.
Carter was ejected from the game in the third period after throwing a flagrant elbow at Adams' jaw, a cheap shot which the rookie took without a flinch.
Carter told ESPN.com he was sorry for his actions but didn't go as far as apologising to Adams.
"More than anything, I just want to apologise to the fans of both sides," Carter told ESPN.com.
"You know there's no need for it. They're already trying to clean up the game of basketball, make it fun for fans to watch. It's just one of those things where you're caught up in the moment of a big game, whatever, whatever, and you react to a reaction that was done to you."
Despite the blow to the jaw, Adams produced possibly his best NBA performance to date, making his mark on fans and commentators.
The Kiwi centre was a key contributor yesterday, playing pivotal minutes off the bench.
Adams drained the resulting free throws following the Carter ejection as part of his six points and nine rebounds in 20 minutes of the 107-93 victory, running the Thunder's record to 3-1.
His court time was six minutes more than starting centre Kendrick Perkins managed and, throughout the game, Thunder fans flooded Twitter with calls for Adams to be promoted into the starting five.
It was easy to see why. While Adams had more points in his second game, at Utah, his efforts yesterday were much more than what the box score showed.
He set a number of solid screens to allow open looks for the likes of Kevin Durant, while a memorable 60-second stretch in the second quarter saw Oklahoma City open the game's first significant lead.
After getting knocked over under his own basket, Adams recovered in time to block Shawn Marion's shot, collected the rebound before hustling up court to slam home a pass from Durant. Adams then stole the next Dallas possession, setting up a Russell Westbrook dunk to cap a 7-0 run.
The 20-year-old's most notable contribution came in the third when, after grabbing an offensive board, he clipped Carter with an elbow while struggling to free himself of the attentions of two Mavericks. Carter, a career 20-point-per-game scorer, did not take kindly to the contact and lashed out after Adams got the pass away.
The Kiwi was whistled for a technical foul for his role in the skirmish but Carter was thrown from the game, much to the delight of the home fans at Chesapeake Energy Arena.
Adams was asked by reporters postgame how he felt after the elbow and said, "I feel fine, bro. Thanks.
"[I] definitely felt it. It was an elbow to the head. I just don't like reacting to it. It's unfortunate that it happened, really."
Twitter also exploded at the incident, with Adams drawing even more fans after his stonewall reaction to the foul from the oft-maligned Carter. Many predicted Adams would be starting sooner rather than later, while some saw him as the missing piece that could make the Thunder - among the three favourites for the NBA championship - a true title contender.
That view was shared by the ESPN commentary team, who spent a good portion of the game praising Adams, with Mike Tirico saying, "[Adams] makes the difference in this group."
- APNZ