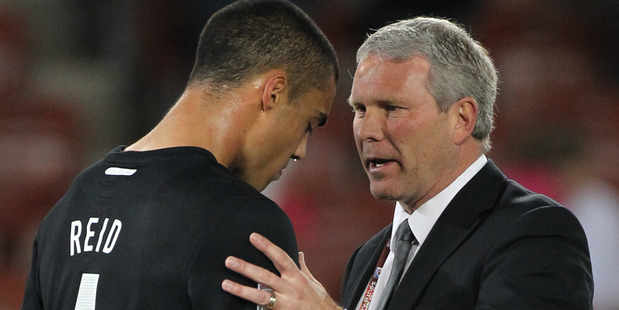 With Winston Reid today ruled out of the All Whites' FIFA World Cup playoff against Mexico, Herald on Sunday soccer writer Michael Burgess answers three questions on the implications his withdrawal will have for the side.
1) Is this the biggest possible blow for the All Whites?
Yes. None bigger. Losing Glen Moss would be almost as bad as Tamati Williams and Jacob Spoonley are international rookies while if anything happened to Michael McGlinchey that would change the whole dimension of the midfield. But Reid is not only the team's best player, he has become the heart and soul of the side over the past 18 months. He was at the top of his game for West Ham (as shown by Arsenal's interest), supremely confident and a superb defender who would have anchored what will have to be a 90 minute defensive effort. And he has developed into the kind of player who brings the best out of his team mates.
2) How does this change the game-plan, can Herbert still play three at the back without Reid?
He might need six at the back now! No, the formation won't change. It will be three central defenders flanked by Leo Bertos and Tony Lochhead, who will be selected nominally as wing backs but will play as full backs for most of the match. So it is essentially five at the back, and they will now need even more protection in front.
3) Who are the options to take over as captain?
There aren't many. Tommy Smith has some captaincy experience, but he is young and having the armband seems to affect his personal game at times, especially in Honiara. Ivan Vicelich is another option. Shane Smeltz would be the only other consideration, but New Zealand don't traditionally have attacking players as captains and the Perth player has been under an injury cloud lately.