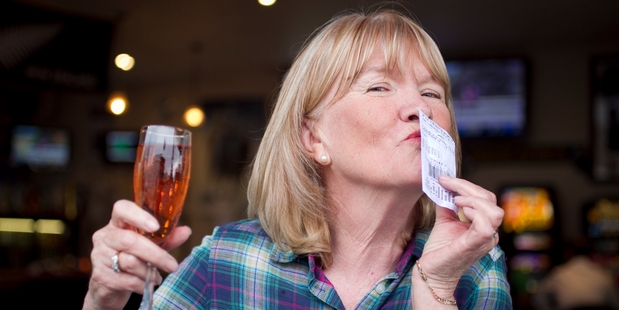 Twenty-five years of betting on the Melbourne Cup has finally paid off for an Auckland fish shop worker who picked the first four horses over the finish line at Flemington.
She has no background in horse racing but Michelle Lees won $118,652 on Tuesday from a $120 bet.
The 58-year-old "spring punter" who lives in Remuera and runs a fish shop with her husband Rob also won an extra $8,080 on two trifecta bets on earlier races.
That brought her total to $126,732, which would go towards a "first-class trip" to Germany or South Africa.
Her biggest wins before then were between $7,000 and $12,000.
Ms Lees placed her first bet while living in Melbourne in 1988 after picking the same horse for the Caulfield Cup as a man in front of her in the line. After a $250 win, the excitement stayed with her and she now starts preparing for her annual splurge in August by studying international racing results.
This year, Ms Lees picked favourite Fiorente to win and then selected six other horses to take the remaining places. "I just picked the horses and they came in in that order, every one I picked was first past the post. I only bet once a year for the Melbourne Cup and the Caulfield Cup - the spring carnival is the only time I do it.
"This is my second go at doing First4 because it is quite expensive ... but I put a bit of money aside each week to save up to do it."
It was the first time in 25 years she has not watched the event live from the Australian racecourse, after living in Melbourne for a decade and spending the last two travelling to the event with friends.
"I watched it at home this year and I was so excited to watch them come across the line," she said.
"I actually didn't realise for two hours that I had won until I was speaking to my husband. We went back up to the TAB and the lady gasped and wrote me out a cheque, and we spent another two hours in the bar shouting everyone drinks."
The TAB took a total of $19.8 million for Tuesday's racing, including $9.4 million for the cup itself. Other big wins included a $37,968 taking from a $5 bet and a lucky $24,916 windfall.

Melbourne Cup 2013
• $19.8 million of bets were made with the TAB, including $9.4 million for the main race.
• Big prizes included an Auckland woman's $118,652 windfall from a $120 bet and a $37,968 win from a $5 bet.
• More than 12,000 were visiting tab.co.nz at its peak on Tuesday.
• 5,454 new people took out TAB accounts during the week leading up to the event.