Casey Kopua busy studying rules for her first role in exhibition-style event since 2009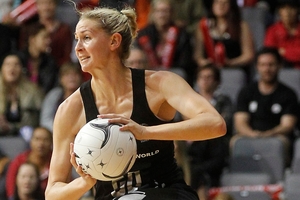 It is more of a shoot and giggle than serious competition but this weekend's Fast5 World Series holds a special importance for Casey Kopua.
The Silver Ferns captain will make her first appearance since 2009 at the World Series - an exhibition-style tournament which features a shortened format and rules that encourage fast and furious play - having had her past three international seasons disrupted through injury and rehabilitation programmes.
After the frustration of having a limited role for the national team in recent years, Kopua is thrilled to be in good enough shape at this stage of the season to take part in the tournament.
"This is probably the biggest year for me in terms of netball load, I'm quite excited to last this long," the veteran defender said.
"I think this is easy to get motivated for, because it is something fun, there are expectations but not as much as it would be with the New World Series and stuff."
Since the new version of the game was introduced in 2009 the rules have been a work in progress, with tweaks occurring every year before a radical overhaul in 2012.
The teams were cut to five, with the wing attack and wing defence positions removed, new scoring zones introduced to include three- two- and one-point areas and the rules around the selection of powerplays changed.
Kopua has been furiously studying the rulebook before the tournament, which begins at Vector Arena tomorrow night, but was still getting to grips with the rules and how they might come into play strategically.
"I've read the [rule] book. We've got a quiz this afternoon as a team - hopefully I'll get at least one right," she said. "I'm more of a visual learner.
"It will be good to do this before we go to training this afternoon. We have six [six-minute periods] this afternoon. It will be good to put the theory into practice."
The athletic defender believes the toughest change to adjust to will be the reduction in team numbers, which means two fewer players helping out on defence and a lot more running around for her.
But the biggest concern for Kopua is what happens before the opening whistle blows, with the players under pressure to top last year's pre-final antics, in which they performed the Gangnam Style dance.
The team began choreographing a new routine during last month's Constellation Cup series, which Kopua joked could have been to blame for their 4-1 series loss - "it might have been a bit of a distraction".
"There are always plans for the off-court festivities. We got the email link of the things we need to practise. You can imagine everyone at home practising in front of the TV so when you get here you don't look like a fool."
Talk of other teams also brushing up on their dance moves for the series has made Australian Flyers captain Susan Pratley more nervous than the on-court performances. And that's saying a lot.
World champions in the traditional format, Australia failed to win a game at last year's Fast5 tournament, which saw them cop a lot of criticism back home for their lack of preparation and sending an inexperienced team.
This year they've tried to find a better mix of youth and experience, calling in seasoned ANZ Championship performers including Pratley, Demelza McCloud and Carla Dziwoki.
"We've got a completely different team to last year, there are no girls here that were here last year, but I think we learned a lot from watching where they went wrong.
"From what we've seen I think we were probably too safe, too conservative and didn't really embrace it properly I guess," said Pratley.