With classy Cruden breathing down his neck the veteran first-five must rediscover best form against French.
Dan Carter is the likely starting No10 for the All Blacks this Saturday, but it's his need for game time that is keeping him in front of Aaron Cruden for now.
With 55 minutes under his belt in Japan, Carter is ready to go up a level against France - and he'll need to.
The selectors may view the England test as the one where all secondary objectives are put on hold. It won't matter who needs game time, development is not relevant: it will be a blood and snotters game, a chance for revenge and the only thing that will matter is winning.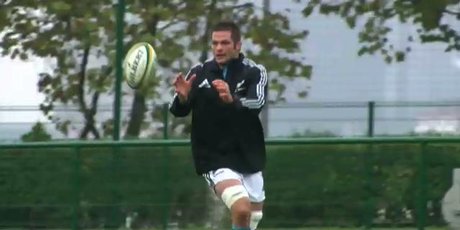 On that basis, Carter will have to do enough in Paris to convince he's still the number one choice. He'll need to be more commanding than he was in Tokyo - more threatening with the ball and prepared to attack the line.
Everyone knows he can do it. Everyone knows he's a talent like no other but in this injury-ravaged season, he'll need to provide a reminder of all that.
It's been a long time since the nation was treated to vintage Carter.
What was unthinkable even 12 months ago may now be a reality, that the days of Carter being the automatic selection at first-five are possibly over. Not for ever, but certainly on this tour he is going to need to deliver compelling rugby to keep in front of Cruden.
This is a new state of affairs, but the selectors feel they have in Cruden a player who has made an almost irresistible claim to be considered the first choice now. That was the goal he was set at the start of the year: to ditch the back-up tag and play well enough to give the selectors a dilemma. That's what he's done says assistant coach Ian Foster.
"The answer is definitely he has. If you look at Crudes' goals at the start of the year he has done that - he has put massive pressure on us and we are delighted with that.
"Whenever he has started for us he has led us fantastically around the park so we are in a great position. It's a great position for us and a tough one."
The big difference between Cruden now and last year is the consistency and accuracy of his kicking game. That was always the flaw in his earlier work: the area where he clearly lagged Carter.
Not now. Cruden has looked every inch the test player and the All Blacks simply wouldn't have been able to go up a level this year if he hadn't.
He's not convinced, though, that he's done all that he could.
"A bit of yes and no," Cruden says when asked if he feels he's put as much pressure on Carter as he would have liked.
"He's had a few injuries throughout the year and I guess so have I. I am just trying to make the most of every opportunity. I didn't get time last week but hopefully I do this weekend."