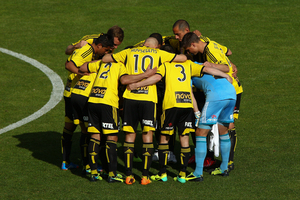 The Phoenix's All Whites are set to play on Saturday for their club before assembling with the rest of the squad, while Winston Reid is likely to be flown by private jet across the Atlantic after West Ham's match this weekend.
Though some financial details need to be clarified, New Zealand Football has agreed to the arrangements put in place by the Phoenix to ensure their international players arrive in Auckland on Saturday in time for their 10.45pm flight to Los Angeles.
It has helped that the Phoenix's game with Perth Glory has been shifted to 5pm (from 5.30pm), after negotiations with all relevant stakeholders, including the broadcasters and the Football Federation Australia.
That shift allows more breathing space for the six Phoenix All Whites and Shane Smeltz (Perth Glory) to make the 8.20pm flight out of Christchurch, which will deliver them to Auckland by 9.40pm.
The club has worked closely with Air New Zealand to ensure the process between leaving the field at AMI Stadium and arriving at their departure gate in Auckland is as quick as possible.
"Air New Zealand have no issues that they will get them to their flight," said Phoenix chief executive David Dome.
"They are essentially going to hand deliver them to the plane."
Luggage will be checked in through to LA on Saturday afternoon, while all ticketing arrangements will also be handled before the game to speed up the process. At Auckland airport, the airline will take the players through "express channels"to ensure they make the plane.
Meanwhile, a charter flight will ferry Reid from England to Los Angeles, after his late afternoon (5.30pm UK time) away game against Norwich.
Ipswich (Tommy Smith) and Leicester City (Chris Wood) are currently in talks with the Hammers to see if their players can join the same flight. Smith's situation is the most problematic, as Ipswich play in Blackpool - over 300km from either Norwich or London, where Reid's plane will fly from. Leicester has a home game, meaning Wood is much closer to either departure point.
Last night NZF were clarifying the insurance situation to make sure there is financial cover in case an "act of God" means the plane is stranded at Christchurch airport and the players miss their Auckland connection.
In that scenario, the seven players would travel to LA from Auckland at 10am on Sunday November 10.