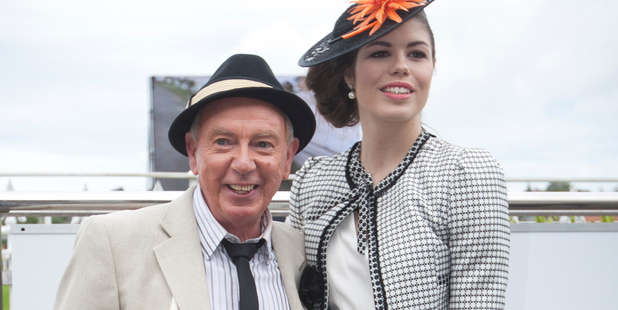 It was a small win, but still a win.
Rebecca Shuker put $3 on Fiorente to win the Melbourne Cup - on a tip from her sister.
"She said `that's the one' so I put some money on it. I wouldn't even know what it's paying,'' she said.
Ms Shuker was watching the race at Ellerslie's Sofitel Luxury Hotels Melbourne Cup Day on an annual girls' day out with a group of friends from Waiuku.
Among them was Wendy Chadwick, who put money on six horses, but didn't pick the winner.
"It's a special day, you don't get to do this very often,'' she said.
The group dressed up in their brightest race day frocks and hats, but Ms Chadwick said she was a little disappointed by the fashion in the field this year.
"I don't think it's as colourful as it has been, there's a lot of black.''
The most stylish punters at Ellerslie were judged by Colin Mathura-Jeffree, who selected winners for the Sofitel Luxury Hotels Style Awards.
Sophie Reason and Geoffrey Colquhoum each won a $2000 prize package, and entry to the national Fashion in the Fields finals at Auckland Cup week.
Ms Reason, 21, an Air New Zealand flight attendant, was at the races for the first time, and said she decided to come only last week.
Her hat was made by Monika Neuhauser, who also helped style the rest of her outfit - a dress from Portmans, shoes from Wild Pair and a vintage jacket.
:It was a pretty amazing result for my first time going to the races,'' she said.
"I couldn't even believe it when they said I was in the finals, let alone when they called my name out as winner.''
VIP guests at Ellerslie were being entertained in the Sofitel Sabrage Suite, enjoying complimentary massages and champagne opened using a traditional French technique, where the bottle is opened with a sabre.
Sofitel area general manager Wouter[correct] de Graaf said the sabre tradition dated from Napoleon's time, and champagne was ideal for race day.
"Napoleon said if you win you deserve one, and in times of defeat you need one.''
Auckland Racing Club chief executive Cameron George said the day had been a successful start to the racing season, with a good turnout despite a patchy weather forecast.
"If you're not in Melbourne, this is the next best thing with our fashion awards and hospitality options,'' he said.
- APNZ