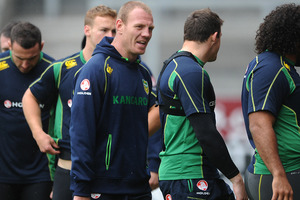 Australia have written to Rugby League World Cup officials requesting permission to call in a replacement for injured back-rower Luke Lewis for the rest of the tournament.
Lewis' campaign ended after he injured his shoulder slamming into an advertising sign during Saturday's 34-2 win over Fiji in St Helens.
Under tournament rules, teams are usually not allowed to replace injured players but Australia are seeking special dispensation due to the circumstances of Lewis' injury.
A World Cup spokesman told AAP a decision would be made on Tuesday morning (Tuesday night AEDT).
If Australia are allowed to call in a new player, it's likely coach Tim Sheens will seek a like-for-like replacement for Lewis with Beau Scott, Matt Gillett or Ryan Hoffman among those who could be considered.
The new player would need to be available to make a quick dash to the northern hemisphere, with Sheens ideally wanting to give the replacement game time against Ireland in Limerick on Saturday.
Australia are expected to run out easy winners against the Irish, who were defeated 42-0 by England on Saturday, but the match looms as important for a host of fringe Kangaroos' selection hopes.
Sheens is again expected to rotate his squad at Thomond Park but is likely to return to using his best 17 from the quarter-finals onwards.
Kangaroos five-eighth Johnathan Thurston said it was also critical Australia started to build some momentum, feeling sloppy errors had let them down in the wins over England and Fiji.
"No doubt we need to control the ball - that's what's killed us so far,'' Thurston told AAP.
"We coughed up a fair bit of the ball and England made as pay and we did that again against Fiji.''
Lewis has travelled to Dublin with the squad, but is expected to return to Australia next week at the wishes of his NRL club Cronulla.
The 30-year-old will seek further medical advice to determine whether he requires shoulder surgery, which could threaten his availability for the start of next year's NRL season.
A World Cup spokesman said Australia had not registered any safety concerns about advertising hoardings after Lewis' injury.
- AAP