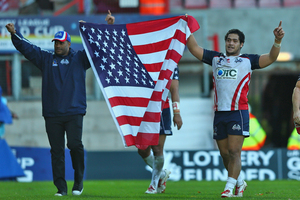 Thrown together at short notice and barely knowing each other's names, the USA Tomahawks were a disorganized rabble as they headed to Europe for the country's first appearance at the rugby league World Cup.
"Shock The World'' was their motto.
So far, they are doing just that.
The Tomahawks are on the cusp of a place in the quarterfinals and a likely meeting with tournament favourite Australia after beating co-host Wales 24-16 today for their second straight group-stage win.
"The boys keep defying belief, to be honest,'' said coach Terry Matterson, who has only been in the job less than a month.
If the Cook Islands lose to Tonga on Wednesday, the U.S. is guaranteed to finish first in Group D and reach the last eight. Even with a win, the Tomahawks can still ensure first place by beating Scotland on Friday.
Not bad for a group of players who aren't even getting paid to play in the tournament.
Between the 32-20 win over the Cook Islands on Thursday and this memorable win over Wales, the U.S. had one training session and spent Sunday watching Premier League football, attending Manchester City's 7-0 hammering of Norwich.
"They are making me proud, and their families and teammates proud too,'' Matterson said. "The more we can do here, it will obviously raise awareness (in the U.S).''
Clint Newton, the son of former Australia golfer Jack Newton, scored two of the Americans' five tries after going behind early to Wales in Wrexham.
Matt Peterson, captain Joseph Paulo man of the match for the second time this tournament and Tui Samoa also scored tries for the Tomahawks, who had just three U.S.-born players in the starting team.
The Tomahawks have now won five matches in a row, starting with a Colonial Cup double over Canada and followed by an extraordinary warmup win over France in Toulouse on the eve of the World Cup.
Wales, a semifinalist in 1995 and 2000, became the first team to be eliminated for the tournament after losing to Italy in their opening match.
In the later match Scotland and Italy drew their Group C match 30-all.
- AP