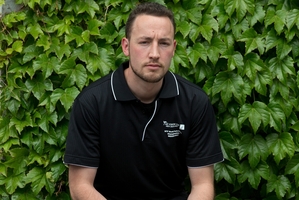 When John Kirwan first delivered his message of hope to those New Zealanders suffering from depression, Dafydd Sanders was enduring his "lost years".
The victim of a political fight between two warring tae kwan do factions, Sanders had his Athens Olympic dream ripped from him. Always a quiet kid ("I was known at Ilam school [Christchurch] as the boy who never smiled"), the idea he was not in control of his sporting destiny sent Sanders, now 29, into a dark place for the best part of two years.
Sanders was "grieving" for a lost goal, but he is careful to separate that from depression itself. The depression came not from missing selection for Athens, but from the idea that he had no control over his destiny.
"When you have one goal and you miss it because somebody beats you or you weren't quite good enough, you think those four years were a waste of time. When that gets taken away from you through no fault of your own, that makes it worse.
Sanders withdrew into a "dark, colourless place", rejected friends and family and lived the life of a recluse.
"I literally did nothing. I stayed in bed. I was fearful of leaving because I was fearful of failing. I still experience those feelings, but I've got better ways of coping."
He has learnt the difference between focus and control. He can't control the past, or even his surroundings, but he can focus on the present and the decisions that he makes in the here and now.
"If you love and appreciate the present, you can become immersed in it. You enjoy being you," he says.
Sanders' story highlights two things: the pressures of elite sport are just as acute in the 'minority' sports as they are under the full glare of Sky TV's television cameras; and just how far-reaching the "JK effect" is.
"His campaign was just coming out when I was suffering," Sanders says. "It was awesome to see. I always looked up to him and that took a lot of courage. It was a powerful thing. It was like, 'If he can have success going through the same stuff I am, why can't I?' It was amazing."
Since those dark, post-Athens days, Sanders has tried and failed to reach the Olympics twice more. He will try again for Rio. He rates his chances of catching a break this time.
If luck or something worse conspires against him, he'll be gutted ... but okay.
Key numbers
* We will look at the Rugby Players Association past players survey in more depth tomorrow, but some key numbers to remember are:
* The average retirement age of the 123 players surveyed was 32.
* For 48% of players, retirement was unexpected (ie they got injured or were not selected).
* 29% were not prepared for retirement; 60% said it took more than six months to ``gain control'' of their lives post-retirement.
* 79% of players earned more than $100,000 per annum in their final two years of playing; just 24% earned more than $100,000 per annum in their first two years after retirement.
Last week
Wednesday: Mental health is the elephant in the stadium, and Lou Vincent's struggle for acceptance.
Thursday: Cricket's unique stresses and Iain O'Brien's story.
Tomorrow: Rugby's groundbreaking survey and the addictions harming our sports stars.