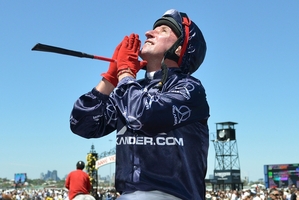 Leaning on a rail in the corner of the Flemington birdcage on Saturday applauding Jim Cassidy as he came back on Zoustar for his 100th group one victory was Roy Higgins.
Australia's superstar jockey of the 1960s and 70s is one of only two others in the country who rode more than 100 group ones, ending on 108 when he retired in 1983.
George Moore was the other.
Higgins remembers his retirement year well.
In a recent interview he recalled this youngster walking up to him in that same Flemington birdcage on the first Tuesday in November and asking how to ride a Melbourne Cup.
Higgins, winner of three Melbourne Cups for Bart Cummings, said: "Make sure, when you are turning out of the straight, you remember it is very sharp. If you are three or four wide, it will be very detrimental."
"Doesn't matter," Cassidy says. "I will be last."
"When you get to the 1400 mark," Higgins continues, "you want to be looking at horses going forward, getting on their back, improving your position, because you don't want to be too far off on the home turn."
"Doesn't matter," Cassidy says. "I'll be last there."
"Let's talk about when you are in the straight," Higgins continues with a frown. "You don't want to be giving them four or five lengths. Maximum."
Cassidy: "I'll still be last there, too."
Higgins exploded. "You can't win a Melbourne Cup from being last into the straight!"
He stormed off muttering: "who is this little bastard?"
Four hours later, Higgins watched as Cassidy came from second last on the home bend to win that 1983 Melbourne Cup on Kiwi.
Cassidy, while delighted, was taking Saturday's victory on the chin.
"I don't give a f ... I've had good and bad happen to me all through my career and I've enjoyed every moment, and I mean every moment.
"I've loved the bad as much as the good."
There's been plenty of both.
"I've been on top for 30 years and I deserve this," he said without the slightest sense of self importance or false modesty.
Every bit of that is true. Cassidy has something you can't teach - the ability to squeeze more out of a racehorse when other riders would be found wanting.
No one has learned how to bottle it or come up with a word for it.
Genius doesn't quite fit, but it's the closest you can get.
The 'I don't give a ...' quote comes from that strange and unique quality of the genius that treats a rare gift as if it's the norm.
This A$500,000 Coolmore Stud Stakes was a race the A$20 million new owners of Zoustar wanted desperately to further assist with the colt's future stud career.
You don't want them beaten first time to the races after a deal like that, completed only last Tuesday.
"His testicles were on the line and so were mine," said Cassidy, with a small sense of relief.
Even at $1.90, there was a niggling doubt when Zoustar had his head high in the air out in the open near the outside rail at the 400m.
But once Cassidy let Zoustar "go" the head came down and he powered to the finish to score easily.
"The others had engines under them, I had a jet engine under me."
Thirty minutes later the occasion of achieving his 100th victory at the highest level in front of close to 100,000 racegoers started to sink in.
"Fancy being compared to Roy Higgins and George Moore - amazing riders and amazing people."
Cassidy was delighted his big occasion came on a horse trained by Chris Waller, who has also supplied a number of the former Kiwi's recent group ones.
"This bloke [Waller] is a freak. If he wasn't a horse trainer he'd be a magician. He could put me in the barriers and just about win a race."
Waller said he believes the key to Cassidy's magic is the jockey's ability to pass on his own supreme confidence to his mounts.
Cassidy doesn't deny that.
"Yes, I like my horses to feel the same as me. I want them to feel like they can achieve anything, because I do." Cassidy wouldn't be drawn on when he would retire.
"My body will tell me," but he said he wouldn't be riding "slow" horses at the provincials from this point.
"Who knows, I could go on and ride another 10 or 15 group one winners.
"I'm taking a Kentucky Derby tour and I enjoy doing different things."
Despite his genius, Cassidy has always said: "This [racing] is my career, my wife and family are my life."
At 50, Cassidy gives the impression he could go on forever - he has probably never ridden better.
"While I've got horses like Zoustar and Hawkspur to ride I won't be retiring. Why would I hand over horses like that to someone else?"
Hawkspur, he says, is a live chance in tomorrow's Melbourne Cup.
"He's been set for the race and his Caulfield Cup effort was fabulous.
"Yes, he can win."
Asked if he has further dreams.
"When I started I wanted to ride in a Melbourne Cup and then my dream was to win one."
He achieved both aboard Kiwi in 1983.
And what does he remember about first being accepted as an apprentice. "I went to Allan Kaye and then Peter McKay and couldn't get an apprenticeship."
He landed with Patrick Campbell. "I remember thinking: 'Thank God I've finally found a stable'."
And how did that go?
"Well, I was the best horse Patrick trained."
Cassidy turns and walks towards the jockeys' room just as you ask, do you really fancy your chances in the Cup? He turns back and winks.
"If anyone can do it, Pumper and Waller can."
There is more fact in that than boast.
A longtime friend of Jim Cassidy revealed an interesting fact on Saturday.
Cassidy apparently visited Australia nine years before his Kiwi Melbourne Cup victory on Kiwi.
It was with a schoolboy football team.
"He excelled," said the friend, "not at football - at the haka."