As side stands on verge of history, set-piece is in dire need of fix.
So dominant and seemingly indestructible all year, the All Blacks have arrived in France with signs there may be a significant crack in their game.
They look vulnerable in the scrum, having been moderate all year and alarmingly out of sorts against Japan until their superior bulk and fitness eventually told in the final quarter.
The All Blacks are concerned - knowing as they do that while French flair is a myth, their devotion to and excellence in the set-piece is not. The old adage of no scrum, no win, still holds true in France.
Scrummaging is the lifeblood of the French team: if they get it right, build ascendancy, then the confidence will flow through their team. However good the All Blacks are at pass and run, their ability to win in Paris will be greatly reduced if they deliver a scrummaging performance similar to the one in Tokyo.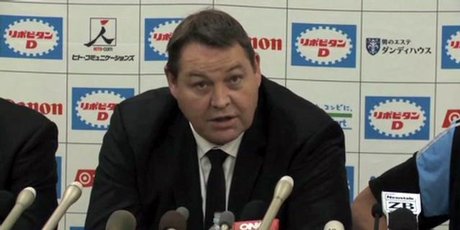 Something isn't right. It hasn't been right since the introduction of the new rules.
South Africa and Argentina have adapted well, even Australia - but the All Blacks have seen their timing go to pot.
The All Blacks have lost that controlled surge which was a feature of their 2011 World Cup campaign. The power isn't coming through the way it used to and the problems are most acute on their put-in.
It's having to hook for the ball that seems to have thrown them. On a few occasions this year they have been sent reeling just as the hooker has lifted his foot. None will be harder to swallow than the second scrum in Japan which saw the home side shunt the All Blacks a metre backwards after taking a tight-head.
"It was a tough first half," says All Black tight-head Ben Franks. "It is more of a contest now. You are not guaranteed your own ball any more. It's a bit more of a fight. There is a lot more pressure in there.
"On our ball it is always a bit harder when the hooker has to strike. We were just trying to strike it and then hold a bit. In the second half we had more consistent follow through.
"One of your guys has to take his feet off the ground where as before you could just walk over it. Now it is a bit of an arm-wrestle. We [have to] figure a way. You have to hook the ball somehow."
The All Blacks do have to figure a way to be steadier on their own ball.
They stand on the verge of making history if they go through the calendar year undefeated. They have a chance to make a powerful statement ahead of the next World Cup where scrummaging will be a major feature. This crack needs to be plastered.
Commitment to improvement is not the problem. They scrummage plenty at training; they never stop analysing and adapting.
But they are not making the improvements they crave which is why All Black coach Steve Hansen is hopeful an IRB meeting tomorrow between top-tier coaches and referees will offer some relief.
It's apparent the All Blacks aren't convinced referees are handling things as well as they could and with consistency and clarity from the officials, this may be the plaster they have failed to find this year.
"It was messy at times," said Hansen of the scrummaging against Japan. "There is a meeting on Tuesday and hopefully we will sort it out there."
All Blacks 54
Japan 6