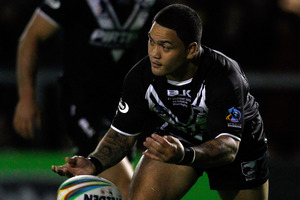 Run Rabbitoh, run. Issac Luke was the highlight of the weekend, as rugby and league's branding exercises fizzled rather than sizzled.
Luke is a marvel. The little Kiwis league hooker tormented France, as he has done to NRL defences throughout the year. He is so dangerous that opponents are inclined to minimise the number of big men, because they can't handle his repeated sorties and are left exhausted trying to do so.
We've never had a dummy half to closely match Luke. He busts tackles, runs through gaps, offloads, twists and turns and runs and runs. He puts up terrific tackle numbers and sets up tries. Luke is also clever at winning penalties against tired or distracted markers. He does everything, apart from command a game with quite the control that the masterful Aussie captain Cameron Smith does.
Luke, the key to South Sydney's revival, has respect from one and all, yet doesn't quite get the limelight he deserves in New Zealand. Luke is heading towards joining our finest league legends, the Mark Grahams and co.
Yet Sonny Bill Williams gets more press coverage for tying a shoelace. Thanks largely to the remarkable Luke, the Kiwis smashed France even though they didn't play overly well at the weekend.
The league World Cup is already going through the motions, although with more heart than the sad rugby debacle which took place in Tokyo. League has given up doing anything regularly meaningful to support a test programme, and runs half-hearted tournaments instead. There might be 14 nations allegedly competing for the league World Cup, but they are operating under flags of convenience.
League's World Cup is partly an exercise in scaling family trees. The sometimes lopsided games are only mildly interesting from a distance, providing an extended intermission until the final stages.
•Tokyo was just sad. Rugby test caps are being handed out like real estate pamphlets. The New Zealand Rugby Union has stepped over a line with its All Blacks obsession and worldwide money chasing policies, a point that saw Jeremy Thrush stopped from leading Wellington in the ITM Cup final in order to train for a low-rent romp against Japan. Everyone has their snout in the same trough - Wellington didn't even complain.
The rugby press, which knows the dangers of open rebellion, has been moved to take a few mild pot shots at the Tokyo yawn.
The defence of all things All Blacks/NZRU is led by Sky TV, who position themselves as commercial and obsequious partners of the union.
Studio host Scotty Stevenson, to be fair, tried to draw some realistic post-match analysis and criticism from his two-man panel.
Former test lock Ian Jones, the most vehement NZRU/All Black apologist, was having none of it. His impotent co-conspirator was Andy Ellis who may be positioning himself for a life of even more rugby after rugby and if so, will know it is best to toe the party line.
Sport would rather give us ugly wallpaper than nothing at all. •Somewhere out there, the New Zealand cricket team is spinning around, and down. The eyes glaze over, looking at names that are vaguely familiar or not even that. Losses pile up. The great Brendon McCullum captaincy era ain't happening. The general sporting public is beyond caring anymore.