Herald rugby reporters tackle the big questions from last night's test against Japan.
1. Who gained most out of the Japan test and why: Steve Hansen, the Japanese Rugby Union, or AIG?
Gregor Paul: AIG were the big winners. They slapped their branding all over the busiest metro line in Tokyo and no doubt wined and dined their little hearts out throughout the week. Frankly, the test, from a rugby perspective for both countries, was a giant waste of time.
Patrick McKendry: Hard to see what Hansen got out of a test the All Blacks were never going to be in danger of losing. Japan played well at times but the big winner has to be AIG.
Wynne Gray: Frank Halai, Dominic Bird, Luke Whitelock and Jeff Toomaga-Allen who have joined the most famous rugby club in the modern sporting world. They can sleep easy and the Japanese Rugby Union will be puffed up too about this sporting coup.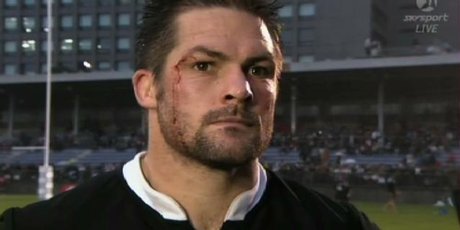 2. Of the newbies, who impressed most and why?
GP: Frank Halai went okay. He could have pushed harder to get involved but that's being a bit hard on him. He had a few impressive touches and on debut - that's about all that can be asked.
PMc: [Sort of newbie] Charles Piutau. Direct and extremely aggressive in a back line struggling for rhythm.
WG: Perhaps Halai by the width of a noodle. Play did not go his way much but he was safe on defence, showed out in the air and plucked a try.
3. It's not a question, but try to sum up this "test" in 40 words or less.
GP: Too many mistakes by the All Blacks and too many players failed to capitalise on the opportunity they were given. The little errors were forgiveable. But having spent all week saying they didn't want to get sucked into playing like Japan, and then being sucked into playing like Japan...the All Black coaches have every right to be disappointed.
PMc: Less a test, more an exhibition match. Hansen ensured everyone got a run. It lacked tension, atmosphere, and at times, quality.
WG: This was a game the All Blacks played on the way to Europe. Ticks for McCaw and Carter getting back into action, the public relations and the pre-match national anthems. Now let the tour begin.
- NZ Herald