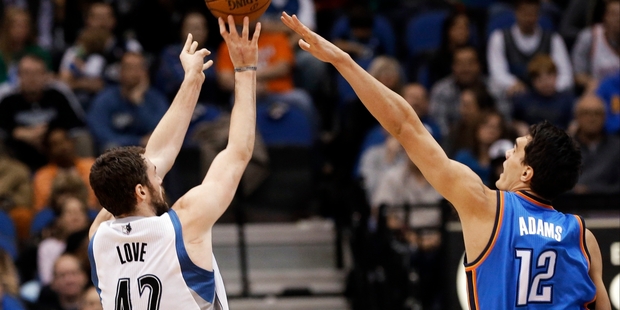 After just two games, it is already apparent Steven Adams will play an integral role for an NBA title contender.
Adams scored eight points and grabbed eight rebounds while coming off the bench in Oklahoma City's loss to Minnesota yesterday, playing 23 minutes and featuring more prominently than the Thunder's starting centre.
The 20-year-old made his NBA debut on Thursday, finishing with two points and three boards in 18 minutes against Utah. He surpassed that stat line after shooting two-of-five from the floor and four-of-six from the free throw line.
Although his team dropped to 1-1 on the early season after the 100-81 defeat, it's easy to imagine Adams suppressing a smile at the thought of what is shaping to be a dream rookie season.
He has officially established himself as the back-up big man on coach Scott Brooks' roster and, if he continues to out-perform the much-maligned Kendrick Perkins, he could eventually find his way into the starting five.
In Kevin Durant and Russell Westbrook (currently absent through injury), Adams shares the court with two of the best players in the game, while the Thunder are rated as the second-favourites, behind only the Miami Heat, to win the NBA championship.
It's all very heady stuff for Adams in his second season playing in the States. He has already exceeded expectations when the Thunder made him their No1 pick in the NBA draft, with most experts predicting he would begin life in the development league.
The 2.13m centre drew praise for his performance against Utah from CBS Sports NBA correspondent Royce Young, who wrote: "Adams was a positive, for the most part. Rebounded well, held his own against [Minnesota centre Nikola] Pekovic, finished inside some and played decent pick-and-roll defence."
Adams' next chance to shine will come tomorrow, when the Thunder face Phoenix for their first home of the season.
Meanwhile, the Breakers will be desperate to arrest a worrying slide when they take on the Wollongong Hawks this afternoon, in danger of falling further adrift on the bottom of the Australian NBL ladder. Their quest for a fourth consecutive title has begun in the worst possible fashion, with Thursday night's three-point loss to Adelaide condemning the Kiwi club to their first four-game losing streak since January 2010. Dean Vickerman's side are 0-2 on the road so far this season but in Wollongong they will encounter the team they defeated on the opening night for their only victory of the campaign.
The Hawks also have just one win and success for the Breakers will immediately lift them back into the playoff picture.