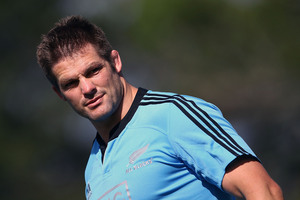 The All Blacks can't get suckered into playing a relentlessly fast game for the sake of it tomorrow when they play Japan. They have to set the tempo - be the ones who determine the flow, rather than spend the 80 minutes chasing the Japanese.
That's the warning from All Black captain Richie McCaw. He's aware that due to Japan's lack of size, preference to play wide and fast and lowly 16th world ranking, that New Zealand could be lulled into believing they don't need to earn the right to play how they want. That they can simply turn up and expect it all to happen.
Not on his watch, he says. He expects the game to be fast, though. But fast because the All Blacks want it that way.
"That's the way we have played this year - to try to use the ball when we can and the Japanese are fairly quick," he says. "Hopefully we can dictate the pace to what we want rather than chasing guys around. We don't want to get too carried away thinking it is going to be too quick - we need to try to stick with what we have been doing."
A decent pace will suit the skipper who needs a good run after so little rugby this year. He says that he's comfortable with the shift to No 8 as he's trained there plenty this year as back-up to Kieran Read.
But despite the shift, he was keen to reiterate that No 7 remains his chosen place and likely to do so for as long as he can see.
"I have done it before and had a little bit of crack there. It adds a little something to think about during the week but I am quite excited by it. I am just excited about getting in the field to be perfectly honest.
"I have done it over the last wee while - cover for Reado should he be injured during a game. It will be quite fun to play alongside Sam [Cane] and Steven [Luatua]."