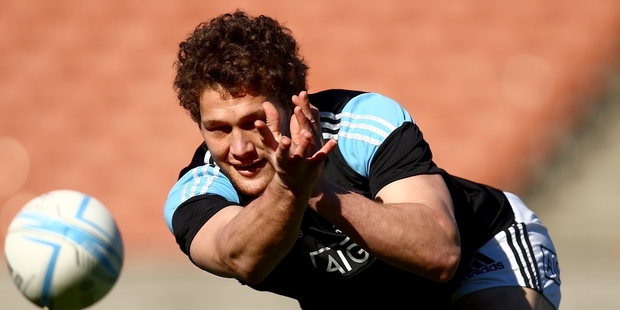 Nerves are a constant pre-match presence for Tawera Kerr-Barlow. He's afflicted with high trait anxiety and he knows he'll be overly tense ahead of making his first start today against Japan.
He's won 11 caps since making his debut against Scotland last year, but never worn the No 9 shirt. Today is a big day for the 23-year-old - a chance for him to display the qualities that drew the selectors to him last year. What they liked was his tenacity, physicality and ability to be so damaging around the fringes.
The Chiefs went up another gear in their first title-winning campaign when Kerr-Barlow found the confidence to probe around the ruck and use his strength and ability to offload. Lively, influential and with the promise of more to come - now is the time for Kerr-Barlow to deliver.
He's not sure whether the presence of Richie McCaw at No 8 and Daniel Carter at first-five is cause for him to feel less or more nervous. Not many halfbacks will ever play with a combined 220 test caps on either side of them.
Neatly tucked between such experience and class, today could be an armchair ride for Kerr-Barlow: the easiest shift he's ever had.
But that's not how it is with halfbacks. They are never there to quietly go about their business. The position demands a voice.
There hasn't been a halfback in world rugby who has been able to play five minutes without barking orders and helpful advice. A halfback has to take control, let the pack know what he wants and tell the backs what they are going to get. That's what the All Black coaches want to see from Kerr-Barlow - authority, poise and control.
Which takes him back to the issue of his nervousness being compounded by the knowledge that he is going to have to yell a bit at the skipper and the world's best No 10.
How does he feel about that? "I am the meat in between the sandwich aren't I? I am sure if I need to give them a bit of feedback they will appreciate it," he says. "It will be constructive. But it is two fantastic blokes to be playing in between. They both talk a lot and give me good feedback and good information.
"I'm a nervous bloke. I'm nervous before I even play club rugby. Once the whistle goes and the ball is kicked off, they usually evaporate. It is just leading up to the game but if I know I have done all my prep and put in the hard yards during the week then I know I am pretty sweet."
Kerr-Barlow becomes the ninth different halfback to partner Carter in a test. The first-five played his first test at No 10 in Rome, in 2004, with Byron Kelleher as his partner. Since then, he's been paired with Justin Marshall, Andy Ellis, Jimmy Cowan, Piri Weepu, Alby Mathewson, Brendon Leonard, Aaron Smith and now Kerr-Barlow.
All of them have offered something different, but in terms of forceful personality, Carter reckons Cowan was the one who had the most presence.
The former Highlander had no qualms telling Carter what he should and shouldn't be doing.
"Tawera has given me a thing or two this week to work on which is good," says Carter. "But Jimmy Cowan [would be the most forceful character] probably because he was such a good mate of mine. He was always giving me banter.
"He was a bit more confident so he would tell me when to pull my head in and when I could do things a bit better. Typical No 9s are not shy of telling you things you need to work on to make them look better."