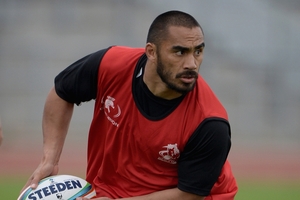 As the son of Kiwis great James Leuluai, Thomas Leuluai has spent his life trying to meet expectations.
It hasn't been easy at times. He became the youngest person to debut for the Warriors and second youngest to feature for the Kiwis when he played as a pimply 18-year-old but has been battling to prove his worth in this country ever since.
It didn't help that the most people here saw of him was in the annual Anzac test when he travelled halfway around the world and played the world's best when trying to work out what time zone he was in.
League fans in the UK have long since admired his talents as he guided Wigan to multiple titles but it probably wasn't until midway through this year that Leuluai finally convinced most in New Zealand he could play. Really play.
He performed a critical role in the Warriors' surge in the second half of the season as they won seven out of eight games and it's only hoped his young but exciting halves partner Shaun Johnson took note of Leuluai's consistency.
That is why it is critical for the Kiwis that he recovers from the troubling groin injury which has kept him off the park so far at the World Cup. He was originally named to play France this morning (NZT) but lasted only 30 minutes of training midweek before succumbing to the injury.
The New Zealand coaching staff will give him time to recover, even if he's not fit to play Papua New Guinea next weekend, because he provides quality backup at both hooker and in the halves and would be a valuable addition to an interchange bench.
The 28-year-old has maintained he's never been bothered about criticism but admitted it was hard not to take some satisfaction out of what he achieved this year.
"It was a tough year for me," he says. "Just coming back to a new club and a new environment ... it was really tough at the start. I found my feet and I thought I was playing some decent footy by the end.
"I always knew [I could play in the NRL]. How I was looked at from outside the group to inside was a lot different. There's always been a stigma with me. It doesn't drive me because I know what Mooks (Kiwis coach Stephen Kearney) and people at the club think of me. I don't enjoy proving people wrong but I enjoy the challenge. I don't feed off people saying, 'what is the club doing bringing this guy back?' I would be lying if I said I didn't get a little bit of satisfaction out of it, but it's not the major thing that drives me."
The major focus at the moment is retaining the World Cup and Leuluai looms as a key figure for many reasons. On top of his utility value, his experience, and experiences playing in the UK, will be invaluable.
He sits just behind Simon Mannering and Frank Pritchard as the most experienced player in the Kiwis squad with 30 tests and is well schooled after eight seasons playing in the Super League.
The Kiwis have not played well in the UK in their past two campaigns there and they are wary of underperforming again.
"I wouldn't say we underestimated teams but we haven't been as focused as we have been for tournaments back in New Zealand and Australia," Leuluai says. "We have a few players who have done a few tours [to the UK] now so they know what to expect. Maybe in the past it got on top of a couple of players when it was cold, wet and dark.
"As one of the older players in the group, I think it's up to me to help keep everyone focused. We have to remember what the goal is. We go over as defending champions so it's something a bit different. I was lucky enough to be involved in 2008 and it was a special time, a time when the Kiwis culture was changing, and it's a good chance for us to do it again."
Leuluai has already surpassed his father on a number of fronts, including tests played (James played 29) and World Cups won (James was involved in the 1985-88 campaign but had retired by the time of the 1988 final at Eden Park).
Another feat in the coming weeks would only add to his growing standing.
- APNZ