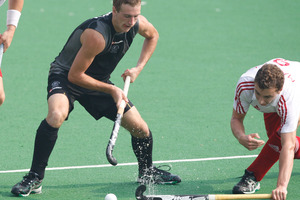 Australia have landed a psychological blow to the men's Black Sticks ahead of Sunday's Oceania Cup final with a 3-1 win during their pool play encounter in Stratford today.
Given the weakness of Samoa and Papua New Guinea, New Zealand and Australia will meet again in this weekend's decider so today's result was largely irrelevant in the grand scheme.
The game was meant to be played last night but terrible weather in Stratford saw the organising committee decide to postpone proceedings until today, which allowed for a better spectacle in brighter conditions at the TET MultiSports Centre.
Strikers Simon Child and Stephen Jenness were forced to live off scraps for much of the game as the Black Sticks struggled, particularly during the opening stages, to move the ball through the midfield.
Veteran Phil Burrows came in to the contest as the game wore on and used his 300-plus games of international experience to attempt to provide better service for the attackers but the Black Sticks were largely on the back foot.
New Zealand defended well throughout the majority of the first half as they scrambled adequately and were able to hold off most of Australia's charges.
Captain Dean Couzins marshalled his defenders well, while he was supported by the likes of Nick Haig and Joseph Bartholomew.
The home side took the lead in the 15th minute when Blair Hilton finished off some fine work from Jenness and Shea McAleese down the right-hand side of the turf.
Playing from down 1-0 galvanised the Kookaburras though and Jason Wilson answered back in the following minute before New Zealand stemmed the tide, albeit briefly.
Their resistance was shortly overthrown as Chris Ciriello scored from a penalty corner in the 28th minute and Russell Ford ensured Australia would take a 3-1 lead to the break as he scored two minutes before the hooter.
The second spell remained scoreless as New Zealand defended penalty corners well but couldn't score from their own when the opportunities presented themselves.
Pool play resumes in earnest tomorrow with the Australian men and women set to meet Papua New Guinea in the morning before the women's and men's Black Sticks face Samoa at midday and 2pm respectively.
The finals, which are all but guaranteed to feature New Zealand against Australia on both sides of the draw, will be played on Sunday.
- APNZ