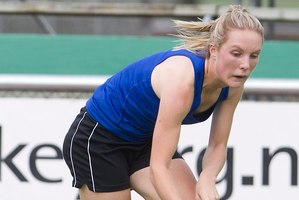 So much for that rest day.
As the rain drove in on Stratford last night, the call was made to postpone the men's Black Sticks game against Australia at hockey's Oceania Cup until today at 11am.
Some of the players were out on the turf warming up before the 7.30pm encounter but the sodden conditions meant a low-quality match was on the cards so the tournament's organising committee took advantage of today's scheduled rest day.
The decision to postpone the game was the commonsense approach, made by tournament director Dallas Riseley from Australia.
Richard Palmer, events manager for Hockey New Zealand, understood there may have been frustration around the move given some people had travelled to Stratford to watch the game.
"It's a logical call and there's some disappointed people and we can only apologise," Palmer said.
"The players aren't going to perform in that."
As large pools of water began to form across the TET MultiSports Centre, Palmer gazed out across the turf and noted the freezing cold winds were also a concern for player safety.
"If you look out there now, you'd be playing underwater hockey."
Men's Black Sticks captain Dean Couzins had no problem with the postponement.
"I think it's the right call. I think the pitch was going to be just playable but it doesn't make for skilful hockey or good-quality hockey."
Couzins said the draw reshuffle wouldn't change how they would approach today's game against their transtasman rivals, despite the fact they would now play three tests in three days.
After today's game, New Zealand will probably breeze past Samoa tomorrow and meet Australia again in Sunday's final.
"We're keen to just play two really good-quality games against them," Couzins said of meeting Australia. "We want to keep building different structures and tactics around how we press and build up with the ball."
Earlier last night, the women's Black Sticks continued their impressive tournament with a 25-0 rout over world No 61 Papua New Guinea.
Their game took place before the weather completely closed in but it still rained throughout the contest and there were biting gusts of wind.
The goal-scoring action came thick and fast and even the official score sheet only accounted for 24 goals after the game. Following some quick revision, Sophie Cocks was eventually credited with the lost score, which took her tally to six for the match in only her second international.
Aucklander Julia King, who marked her 50th appearance for New Zealand with a goal, said it was the coldest she had ever been on a hockey field.
"It's just an honour to play for your country for 50 games," the 20-year-old said. "It wasn't the best game to play your 50th match but still, it's a game."
In the day's other matches, the Australian women beat Samoa 23-0 and on the men's side of the draw, PNG beat Samoa 4-1.
The men's game between New Zealand and Australia was set to be today's only outing with pool play resuming tomorrow.
- APNZ