Errant third quarter takes gloss off final test of the season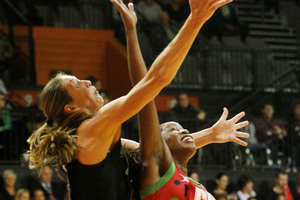 Silver Ferns 72
Malawi 39
It wasn't quite the full 60 minute performance they were looking for, but the Silver Ferns will be feeling slightly better about heading into their off-season break after a more clinical showing in their final test outing against Malawi last night.
An errant third quarter was the only blight on an otherwise commanding performance in their 29-goal win over the world number five side.
The Ferns went into the final test in Hamilton under real pressure to perform having failed to string together a consistent 60 minute performance all season.
Aside from their opening Constellation Cup win, their form against Australia was disappointing, slumping to four straight losses to their transtasman rivals, while their showings against Malawi have been underwhelming.
Only a ruthless, clinical and commanding performance in their final outing of the season would be acceptable.
But an errant third quarter took the gloss off last night's win, with the Ferns losing their momentum when the new attacking line-up was introduced after halftime. The third quarter lapse was something the Ferns had been working hard to eliminate after they were outscored by Malawi in the third spell of Sunday's second test in Napier.
Channelling all their frustration from a disappointing season, the Ferns started strongly last night, scoring a run of 11 straight goals mid-way through the opening spell to launch themselves to a 23-9 at the first break.
The Ferns had clearly spent a lot of time between Sunday's second test in Napier studying the Queens' unorthodox attacking patterns, with Malawi having much more difficulty breaking New Zealand's swarming zone defence.
A polished shooting performance from Irene van Dyk and Jodi Brown in the first half ensured the Ferns wealth of turnover ball was duly converted into a healthy 41-16 lead at halftime.
The contest descended to a scrappy and willing affair in the third spell as the Malawi defenders, frustrated by their inability to turn the ball over, began to throw in the elbows and get inside the heads of the new shooting line-up with some rather questionable tactics.
Things got particularly heated between Cathrine Latu, who replaced van Dyk at halftime, and Malawi goal defence Caroline Mtukule, with some choice words exchanged between the pair.
The Queens' tactics seemed to work though, as the visitors held the Ferns to 12-all for the period.
After composing themselves at the three quarter break, the Ferns were much more clinical in the final spell with the interplay between Latu and Maria Tutaia a particular highlight.
Malawi, who have wowed the crowd their athletic style and aerial mastery are looking a real threat for next weekend's Fast 5 World Series in Auckland.