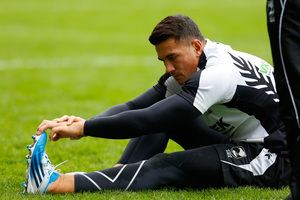 The French can't remember ever selling 17,000 tickets to a game of league - but the punchline to this joke is that the bloke most were all paying to come and see has now been ruled out of the game with "a few bumps and bruises".
After making his name in France playing rugby, Sonny Bill Williams was going to be the star attraction at the Avignon match when NZ take on France - until the Kiwis announced their line-up and SBW wasn't in it.
"He would've been right to play on Friday but I wanted to give Alex Glenn an opportunity and also get some more time into Frank Pritchard," coach Stephen Kearney said.
Which is understandable from New Zealand's perspective but it is just a pity for the French fans who had sold out the ground.
A French team official said last night that the news would be a disappointment for the local fans. Asked if the match had sold out because of Williams' popularity in France, the team's media spokesman, Geoffroy Croze, said: "Ya, ya, that is true.
"He was very friendly with the public today, all the children. I don't know what will be the reaction of all the people ... [when they find out Williams is not playing]. It is a shame, of course."