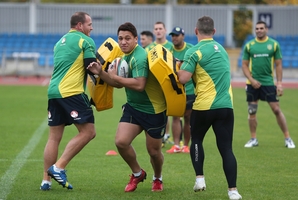 1. What's in a name?
Veteran radio commentator Allen McLaughlin has had issues with the pronunciation of Glen Fisiiahi over the years but his indiscretions are minor compared with those committed by the television commentators in Britain at the World Cup. In Tonga's opening game against Scotland on Wednesday, Fisiiahi (pronounced Fiss-ee-ar-hee) was referred to variously as Fisihaha, Fisihahe and Fisihehe. It was no laughing matter, especially as Tonga were upset by the Bravehearts 26-24 at Derwent Park, Workington.
2. Getting their claws out
There are close to 150 NRL players among the 336 players competing at the World Cup but Penrith have had a stranglehold on the man-of-the-match award for the past four games. It started when Panthers centre Dean Whare won the award in the Kiwis' 42-24 win over Samoa (Mose Masoe was another candidate) and continued when fullback Kevin Naiqama won it in Fiji's 32-14 defeat of Ireland, Sika Manu was adjudged best on the park in Tonga's 26-24 defeat to Scotland and former Panthers utility Sefa Paulo starred for the United States in their 32-20 win over the Cook Islands.
3. You're Joshing us
This is a heartwarming story of the boy from the sticks who came good. It's a tale of homesickness, making do with little and sacrifices. Along the way, Josh Papalii was also mugged on his first night in Britain. Where did he come from? "I was born in a little town called Mt Roskill in Auckland central," he told reporters this week. Showing how small this world is, Sonny Bill Williams was born in a small village just down the road called Mt Albert.
4. The big calls
Audio played of the video referee discussing a contentious try at this World Cup has gone down well even if some of the decisions haven't, but it has led to some comical moments. In the Kiwis' win over Samoa, the video referee twice pushed the wrong button with "no try" coming up on the big screen when it meant to say "try". On top of that, another video referee was heard exclaiming during Fiji's defeat of Ireland, "Jesus, I can't tell". It is not known if the son of God is a fan of league but he was a tradie.
5. In the red
Money talks but it's hard to see it making too much of an impression in this case. The billionaire owner of the Salford Reds, Marwan Koukash, is reportedly after some of the biggest names in rugby league to lure them to Britain to play in the Super League. At the top of his list, of course, is Sonny Bill Williams, who he tried to tempt with a $1 million offer earlier this year. Not to be put off, the Sydney Morning Herald reported, Koukash is reportedly going to try again as well as hoping to snap up Shaun Johnson, Simon Mannering and Ben Matulino. Koukash will talk to a number of player agents and league officials this week while he is in Australia for the Melbourne Cup.
6. One man's trash...
The World Cup trophy was famously lost after it was stolen from a Bradford hotel in 1971 only to be found in a ditch 20 years later. The man who discovered it, Stephen Uttley, stumbled over it when answering a call of nature on a walk with his dog and thought it was a school cup. He took it straight to the local police station but no one claimed it so it was handed back to Uttley. He then got in touch with the local television station in the hope they might do a story on it. They didn't, with one executive saying to him, "it isn't like it's the World Cup or anything," he recalled to the Mirror last week. It was only made in the 1950s at a cost of eight million French francs, a substantial sum.
- APNZ