The HRV Cup kicks off tonight, with Canterbury hosting Central Districts at Hagley Oval. David Leggat looks at six things to keep an eye out for in this season's T20 competition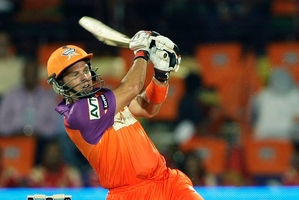 1. Good players dominating
There's a good reason why the best T20 players are in high demand. Teams want them to help achieve success and so look for the internationals and the imports to make strong impacts. If not, they'd have to be considered misses, not hits.
2. Strong competition
That's to say, several teams to be in the running for the semifinals on January 17-19. Last summer, Otago were the runaway round robin winners. After losing their opening game in Hamilton, they won nine on the trot, then the final, then made a strong fist of the Champions League, almost making the semifinals. Wellington, Auckland and ND were in the hunt. Only Canterbury and CD, with five wins from 20 games collectively, were off the pace.
3. Runs aplenty
It's a batsman's game, so let's have runs, bundles of them. The three lowest scores in completed innings last season were 101 (CD v Otago), 116 (Wellington v Auckland) and 122 (Wellington v Otago).
Given certain conditions, a tight low-scoring contest has plenty to commend it. But it's runs the punters come to see, the more clearing of the ropes the better. Last summer the average total in the competition was 165, but that includes shortened innings due to easy wins, or rain reductions.
4. Win with spin
Let's have spinners giving the ball more air, beat batsmen intent on destruction in the air, if they're good enough. Simply shoving flat darts into the pads is boring and, in any case, far from a guaranteed form of parsimony.
5. Hands going up
With three forms of international cricket entrenched, more players, who aren't going to make the test team, need to put up eye-catching displays solely with the aim of T20 national selection. It might be the hitter who makes a habit of banging 25 in eight balls in the last couple of overs, or the bowler whose variations can put a clamp on a runaway batting side in the middle overs. For those striving to represent their country, tests are no longer the be all and end all.
6. Welcome back Hagley
Good to see Hagley Oval on the host list, starting tonight. Portable lights too, in both Christchurch and Dunedin, an innovation for this season, along with mascots. Being the World Cup opening game host in early 2015 gives Christchurch a special place on the cup programme. With due respect to Rangiora, Christchurch needs to be a first-class venue. Big cricket in the South Island has been limited to points further south. It may look a building site for a time, but no matter. It's a welcome return.


Who's coming to the HRV Cup
Auckland: Brad Hodge (Australia, first three rounds), Luke Wright (Sussex, rounds two and three), David Willey (Northamptonshire, last seven rounds), James Fuller (Gloucestershire, full campaign).
Northern Districts: Two to be announced early next week for the first four games.
Central Districts: Peter Trego (Somerset, full campaign).
Wellington: Shaun Tait and Travis Birt (Australia, first four rounds), possibly another player for latter part of the competition.
Canterbury: None.
Otago: Ryan ten Doeschate (Essex, full campaign).