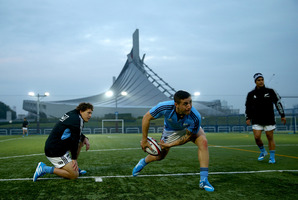 Japan, ranked 16th in the world and hindered by a gene pool that delivers athletes with speed and skill but little bulk, are the metaphorical walnut.
New Zealand, ranked No1 in the world and blessed with a diverse mix of athletes, are the metaphorical sledgehammer.
On Saturday, this sledgehammer will smash into the walnut with entirely predictable results. The walnut will be obliterated and the whole trip has an element of futility.
The original objective of this week in Tokyo was to grow more leaders and provide game time for the emerging All Blacks.
The presence of Daniel Carter and Richie McCaw has shrouded that a little, but the likes of Beauden Barrett, Dane Coles and Ben Smith will have extra responsibilities in terms of guiding those around them.
There will also be guaranteed game time for new caps Frank Halai and Dominic Bird and probably for Luke Whitelock, Jeff Toomaga-Allen off the bench, while Francis Saili, Charles Piutau, Steven Luatua and Ryan Crotty will add to their limited experience.
Yet it still doesn't feel quite right. While the All Blacks will feel they have achieved plenty behind closed doors, they will be judged publicly by the events on Saturday evening - a one-sided romp that will leave many questioning if the expense and travel were really worth it.
If development was truly the only objective, then why not take on Samoa or Tonga or Fiji - either in the islands or in New Zealand? Samoa would have cobbled together a better side than Japan.
Such a game would have gone just a little way towards acknowledging the massive contribution Pasifika has made to rugby in New Zealand.
But of course, development has not been the only theme. Money is a driver. Not directly, as the game is being played at the 26,000-capacity Prince Chichibunomiya Stadium so is barely a break-even job. But indirectly the All Blacks are helping plant a seed: doing their bit to bump the profile of the game in Japan, stir corporate interest and open the door to more lucrative return visits.