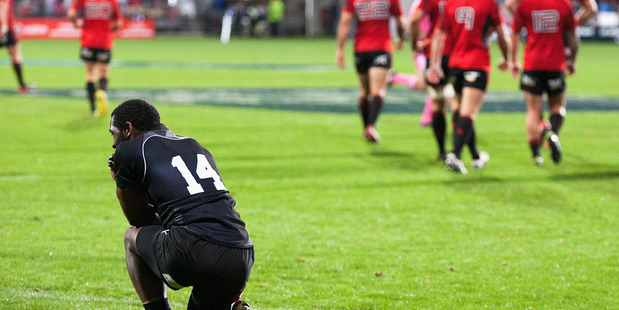 South African rugby is crying foul and threatening to hold its mates to ransom, only this time with a little more feeling. Maybe it is not an idle threat on this occasion.
If the South Africans want to pack up their bag of balls, abandon the Super 15 and join a European competition, then au revoir troops.
No offence, South Africa - it's just that the Super 15 as a genuine professional competition doesn't inspire drama and draw an audience in like other competitions such as the English Premier League and NRL. Will South Africa walk away, though? Highly unlikely, because when push comes to shove their Sanzar partners will have to roll over.
The Super 15 is the most boring, overrated, tiresome professional sports competition on the planet. Its inherent weakness, namely different time zones, allied to rugby's silly bonus point system, turn it into a lottery. Throw in that the NZRU has turned New Zealand into a one-team town - Brand All Blacks - and we are left with a Super 15 that has slumped horribly from its fabulous days of the late 1990s, with no hope of recovery.
Almost all New Zealand rugby's genuine excitement is concentrated on tests and the national team these days.
The tale of the tape here is the build-up to the Super 15 finals, which are embarrassingly limp, quite frankly. You'll see more excitement on a quiet day in Aussie Rules. The geographic spread and resulting disjointedness and lack of interest are debilitating factors.
In an ideal world, an Australasian provincial/club rugby competition to rival the NRL is the way to go - one of the many benefits is that it could give areas like Taranaki their rugby identity back by letting them join the big show. Australasian rugby, however, knows it is on to a financial lifeline even if the Super 15 is a lemon, and it ain't about to let go of its banker, one suspects.
The South Africans, quite rightly, want a sixth team included in the Super competition, and SARU president Oregan Hoskins is playing hard ball, saying if Sanzar doesn't concede then South Africa will join a competition in Europe, where rugby is undergoing a divisive battle.
"It is six or nothing when the new broadcast deal comes into effect," Hoskins said.
And who can blame Hoskins or South Africa. Rugby is a big sport in South Africa, a massive country. Yet they get the same number of teams as Australia, where the game is lucky to get a bit of fine print in many areas.
Melbourne or Johannesburg. Mmmmm. Which city deserves a professional rugby team more? Not a tough decision really. And yet, the Melbourne Rebels lived while Jo'burg was stripped of a team last season. No wonder the South Africans are crying foul.
Will the big Sanzar split happen? My guess - highly unlikely. The New Zealand Rugby Union knows it is on to an easy payday from the broadcaster to fund their All Blacks Rule The World Mission, while Australian rugby is mired in strife - financial, results, PR and popularity-wise. New Zealand has no reason to upset the apple cart and would dread being left in a clinch with stumbling Australia, who in turn can't afford to take any major risks.
Dumping the Super 15 would lead to a lot of unnecessary hard work and angst from the NZRU's perspective because all that really matters to it are the All Blacks.
South Africa, the financially dominant partner in the Sanzar deal, holds the aces and is starting to play them. But if they want to pack their bags, they'll get no argument here.
World Cup a bit of a conThe rugby league World Cup is warming up, much to my surprise. Let's face it - the whole concept is a bit of a con, with teams who don't see the light of day from year to year turning up for the big show. Does anyone in Italy actually know there is a World Cup on? And were they dancing in the streets of Glasgow after the Scots upset Tonga? Unlikely.
The saving grace has been stirring games and yesterday's cliffhanger between Scotland and Tonga was terrific. Ultimately, the World Cup will come down to the usual suspects, which is a major weakness.
This is doubly so, because international league has been turned into a perpetual tournament with the Four Nations taking over from the traditional three-test series. Those grand old Kiwis series against Australia, and a few classics against Great Britain, were the heart and soul of league.
The World Cup would be so much better if there were genuine, old-style league series in between. For that matter, how come the major nations stopped visiting Papua New Guinea, where enthusiasm for league knows no bounds. It is also the only country where rugby league is the national sport. The snubbing of PNG is a shame.
Loony tunesThe World Cup is suffering a surface crisis. The Millennium Stadium pitch was a mess for the opener between England and Australia. Scotland and Tonga played on a field that needed a good mow. There's a lovable loony element to the rugby league World Cup. The official website referred to the Kiwis as the All Blacks, there was SBW's amazing gaffe, and the Tongan centres swapped jerseys at halftime yesterday. A couple of the man of the match awards have also been a little strange. On the plus side, the video refereeing decisions are being made quickly enough.