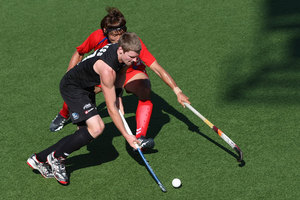 The gulf between the world's fifth best men's hockey team and the 69th is 18 goals.
New Zealand opened their Oceania Cup campaign with a comfortable 18-0 victory over Papua New Guinea in Stratford this afternoon.
Goals were a constant during the contest as New Zealand were rarely challenged in defence and took the opportunity to work on keeping possession.
The Black Sticks opened the scoring in the third minute and the goals continued to flood in throughout the first 35 minutes as Stephen Jenness and Hugo Inglis had hat-tricks by halftime as the Kiwis took an 11-0 lead to the split.
The only time Black Sticks goalkeeper Hamish McGregor touched the ball during the first spell was when it drifted out early on and he simply passed it back to the defence for them to start the game running again.
McGregor was then subbed at halftime as Devon Manchester was given the second stanza in goal.
At the other end of the pitch, PNG's goalkeeper Selwyn Tamur was the busiest man on the turf during the first half - other than the umpires who were regularly confirming the goals - and Tamur wasn't afraid to let his defence know when they had made a mistake.
Wellington's Blair Hilton, who was a late replacement to Colin Batch's squad following a foot injury to James Coughlan, marked his 100th international cap with a goal in the first spell.
Compared to the first half, the second period got underway at a much more pedestrian pace and New Zealand only added three goals in the first 15 minutes.
Eventually, PNG's sustained block of resistance was broken down as New Zealand continued their dominance to complete the rout.
PNG made a rare foray in to New Zealand's territory in the final minute but couldn't find a goal of their own.
Earlier in the day, the Australian men beat Samoa 32-0, while on the women's side of the draw, Papua New Guinea beat Samoa 2-1.
The women's Black Sticks were due to play Australia at 5.30pm this evening.
- APNZ