Legacy plan involves two codes and an Olympics.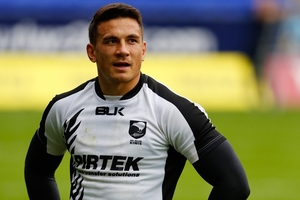 Sonny Bill Williams has a lot of goals still to achieve in his grand plan and he has confirmed one of them is to win gold in rugby sevens at the 2016 Rio Olympics.
The 28-year-old is in France helping the Kiwis defend the World Cup they won in 2008. If New Zealand are successful again, he would become the first cross-code athlete to win the rugby and league World Cups.
He also hopes to go back-to-back with the Roosters in the NRL next season before helping the All Blacks retain the World Cup in 2015 and then winning Olympic gold.
"It sounds a lot, bro, but that's exactly what I'd love to do," Williams told the Guardian. "There's a lot of hard work and stiff competition ahead. But it's good to be honest and put it all out there as to what I want to achieve. It's going to be intense - but I'm ready for everything."
A handful of All Blacks have previously made a successful transition in a short space of time to play at the Commonwealth Games, including Ben Smith, Liam Messam, Cory Jane and Hosea Gear, but sevens coach Sir Gordon Tietjens said yesterday that Williams wouldn't be afforded any special treatment.
"Sonny Bill Williams is an exceptional footballer who certainly has all the qualities to make a very, very good sevens player," Tietjens said.
"If he wants to have a crack at the Olympics, he would be like any other All Black who expresses an interest and be required to play in some of the world series. That will be a stipulation. They will be measured on their performances in the world series and that would be an opportunity to prove to me they are good enough. To be good at it you need to be playing it and training it."
Williams has not yet confirmed his next move and nothing is certain with him until it's official.
He has signalled he intends to re-sign with the Roosters next season, turning down approaches from the Chiefs and NZRU, before switching back to rugby in 2015.
It's an exciting proposition and Benji Marshall and Shaun Johnson loom as other possible starters for Rio.
Marshall recently signed with the Blues and NZRU until the end of 2015 at which time the former touch exponent might target sevens and Johnson said last year he was "very interested" in playing at the Olympics, although he would have to switch codes.
Legacy is important to Williams, which is part of the reason why he changed his mind about playing for the Kiwis at the World Cup. He initially said he wasn't available before backtracking after the 24-man squad had been announced, which saw Tohu Harris jettisoned out of the squad.
"After the grand final, I was 70-30 thinking I was going back to rugby," Williams said. "I didn't want to take anyone's [World Cup] spot. It's ironic because I ended up doing that. But I couldn't sleep the night I said I was unavailable.
"The next morning the team was named and I knew I wanted to play. I'd fallen in love with league again, and knew if I didn't play I'd have regrets the rest of my life. I honestly didn't think a player would have to be dropped. I sent a text to Tohu and tried to get hold of him but he was upset. I want to repay everyone by working hard and playing some good footy."
SBW's master plan
*Two-time rugby World Cup winner
*League World Cup winner and first cross-code athlete to win the rugby and league world titles
*Three-time NRL winner (Bulldogs and Roosters)
*Heavyweight boxing champion
*Olympic gold medallist
- APNZ