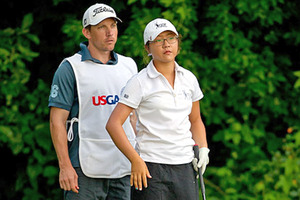 Switching from being a heavily feted amateur to full-time professional won't faze teenage sensation Lydia Ko, according to long-time mentor Guy Wilson.
Having had a busy year as the world's best amateur and climbing to No 4 on the world rankings will help Ko adjust to life in the paid ranks and he believes she is capable of turning in another fine year in 2014.
"I don't think she's jumping from cold into hot water. She's already tested the water," Wilson said yesterday.
"I think she's going to have a very fun first year, without putting too many numbers in people's heads. I don't think she will find the change [of status] drastically different, given the bleeding-in process we've tried to manage over the last three or four years in professional golf."
Wilson said the key would be carefully managing her tournaments and time next year, and those writing the sponsors' cheques - and therefore setting the off-course agenda - had to remember she's not yet 17.
Now that she has received her waiver to turn pro from the LPGA yesterday - players need one to turn pro before 18 - plans can be made for Ko's movements next year.
She played 14 pro and one amateur tournament last year. Next year could involve between 20 and 25 tournaments. "Initially it's all about how events are managed, not saying yes to everything," Wilson said. "That's something that will definitely be taken on board. It's not as if it will be completely different to what she's done this year."
Ko admitted yesterday that the money on the table had meant little to her this year because she knew she wasn't going to pocket it anyway.
"I think definitely it will be (on her mind) for the first couple of tournaments," she said of now playing for pay.
The 16-year-old, winner of four pro tournaments as an amateur, said there was no eureka moment when she knew she was ready to turn professional.
"I don't think there was a certain point. I just really enjoyed being out there with all the great players and great names. I thought I really want to play and as soon as possible."
Ko said she would be back at school on the North Shore next year, wants to go to university and has exams this week. That indicates she's not going to play a full LPGA calendar, but she'll likely have blocks of three or four tournaments.