Sam Jimmieson has had the right coaching to help him achieve the transition from school to bigger stage.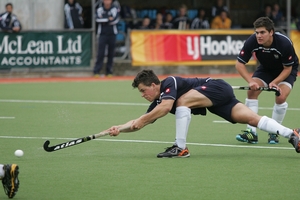 George Muir led the way, now Sam Jimmieson hopes to follow the same path.
Less than two years out of Rosmini College, Muir was this year selected to play for the Black Sticks. Jimmieson has his sights set on making that step to the sport's biggest stage. And he has the right people to help him fulfil that dream.
A member of the St Kentigern College 1st XI since his Year 7 days, Jimmieson, who is about to leave school and head to the AUT Manukau Campus to study business, pays tribute to the part played by the school's director of hockey, one-time Olympic gold medallist and former Hockey NZ chief executive Ramesh Patel, in furthering his hockey career.
Patel's expertise and the special mentoring he gives Jimmieson and other players has played a big part in the growing status of the sport at the East Auckland school.
In this year's inaugural Super City competition, St Kentigern finished third behind perennial front-runners WBHS and Kings and ahead of AGS.
Involved in hockey at club, school and representative level - like many starting at the Hatch Cup tournament - Jimmieson says his game has benefited from the coaching he has received.
"Along with Ramesh Patel, who oversees the whole hockey programme at school and is the assistant coach of the 1st XI, I have also been fortunate to have been coached by Andy Hayward and Helmut Lala and others," said Jimmieson, who also played for the Howick Pakuranga premiers this season along with the Auckland under-18 (for whom he was the leading goalscorer) and under-21 teams. The under-21s won the national title.
The coaching from Hayward is especially beneficial.
It gives Jimmieson the opportunity to learn from one of the best drag flick exponents in the game here, something Jimmieson, 18, is keen to develop.
"I finished with a .4 success rate this season which is not too bad."
Already selected with St Kentigern teammates Richmond Lum and Daniel Guthrie in the NZ Under-18 Tiger Turf squad, Jimmieson is looking forward to representing New Zealand at that level in Australia next year.
While he played in the midfield for St Kentigern, he has also played fullback and will continue his development next winter when he switches to play his club hockey at Somerville where he will be coached by Charlie Oscroft.
Given the success of the sport at St Kentigern - they were the third-best Auckland school at this year's Rankin Cup, again finishing ahead of AGS - the improvement in a sport which, at this stage, plays second fiddle to rugby and soccer, is putting the pressure on proud principal Steve Cole to come up with the funding to add a water-based turf to the sand surface used by the younger grades at the school.
"That would be great," said Jimmieson. "At present all our training is done at Lloyd Elsmore Park." It would really help to have blue turf.
Results
Cricket

Auckland Premier two-day championship, round three
Rosmini 194 and 34/5 beat WBHS 91 (Dylan Steyn 33; Connor Ridge 5-24, Scott Martin 4-22) and 239/7 Dec (Jarrod Baker 71, Mitch Aitkens 59, Steyn 37, Nick Montgomery 34; Ridge 3-87, Zak Finlay 3-20) on the first innings.
AGS 207 (Ben Rainger 50, James Belz 36; Aston Avery 3-20, Hugo Fletcher 3-80) and 125/8 dec (James Parslow 66) beat Sacred Heart 175 and 154 (James McKenzie 4-49, Belz 4-39) outright by three runs.
St Kentigern 177 (James Ellis 41, Jared Schnell 31; Aditya Dhadwal 3-43) and 173 (Ellis 47, Anubhav Thapa 32, Jeremy Myers 30no; Aniket Parikh 3-44) lost to MAGS 295/9 dec (Dhadwal 90, Hamish Campbell 37no, Parikh 31; George Hollingsworth 3-47) and 58/2 (Amit Dhadwal 33) by 8 wkts.
Points: MAGS 14, AGS 10, Rosmini, Sacred Heart, St Kentigern 2, WBHS 0.
Premier A two-day plates, round three
KBHS 160 and 165/9 (Lombard 58, Jarrod Challis 33; Josh Plummer 3/34, William Elston 3/48) lost to St Peters 323/4 dec (Josh Plummer 108no, Eddie Webster 85, Liam Landon 48no; Heesh 3-80) on 1st innings.
Rangitoto 42 and 50 lost to Kings 127/9 (M. Murray 41; P. Thomson 3-17) outright by an innings and 35 runs.
Macleans 95 Avondale 147/4 - first day scores only.
Points: Kings 8, St Peters, Macleans, Rangitoto 4, Avondale, KBHS 0.
ASB Young Sportsperson of the Year finalists
All Rounder: Penina Davidson (Rangitoto), Madeline Evans (St Kentigern), Destiny Grace (MAGS), Georgia Hale (Long Bay), Briar McNamara (Rangitoto).
Athletes with a Disability: Richard Nelson-Parker (Kings).

International Achievement: Lydia Ko (Pinehurst).

Athletics: Matthew Bloxham (Orewa), Audrey Gregan (St Cuthberts), Harii Kiriau (James Cook), Eliza McCartney (TGS), Thomas Monnery (Kings), Bailey Stewart (Sacred Heart).
Badminton: Rebecca Goddard (WGHS), Daniel Lee (AGS), Kaitlyn McLeod (Diocesan), Rayna Phillips (WGHS), Niccolo Tagle (WBHS).
Basketball: Penina Davidson (Rangitoto), Gabriella Fotu (Rangitoto), Bronwyn Kjestrup (WGHS), Jack Salt (WBHS), Tohi Smith-Milner (Rosmini), Luuk Witteveen (Rangitoto).
Cricket, boys: Aditya Dhadwal (MAGS), Amit Dhadwal (MAGS), Shawn Hicks (AGS). Girls: Claire Helen Crooks (EGGS), Natasha Van Tilburg (Avondale), Francesca Wilkinson (St Kentigern).
Cycling: Bryony Botha (Rangitoto), Harry Elworthy (TGS), Charles Michel (Kristin), Lydia Rippon (Massey High School), Zac Williams (St Peters), Nina Wollaston (Baradene), Renee Wooton (Massey High School).

Distance Running: Isabella Brooke Richards (EGGS), Madeline Evans (St Kentigern), Audrey Gregan (St Cuthberts), Sam Pendreigh (St Peters), Andrew Stewart (AGS), Finn Wilson (AGS).
Equestrian (Eventing): Stephanie Fankhauser (St Cuthberts), Georgina Llewellyn (St Cuthberts), Rosa Rieger (Baradene).

Soccer boys: Judd Baker (WBHS), Stuart Holthusen (WBHS), Monty Patterson (MAGS), Matthew Ridenton (St Kentigern). Girls: Chloe Knott (Rangitoto), Jade Parris (MAGS), Martine Ella Jane Puketapu (EGGS).
Golf: Tadhg Campbell (Massey High School), George Helsby (AGS), Joanna Kim (St Kentigern), Harry Yang (WBHS), Wen Yung Keh (Botany Downs).
Gymsports: Laura Furse (Pakuranga), Olivia Gillott (Pukekohe), Alexa Dianne Kennedy (EGGS), Timothy Molloy (St Peters), Dylan Schmidt (Kings).

Hockey: Su Arn Kwek (St Cuthberts), Alexander Hanham (Kristin), Sam Jimmieson St Kentigern), Tyler Lench (Diocesan), Richmond Lum (St Kentigern), Tayla White (Diocesan).
Lacrosse (Girls): Amelia Scharting (MAGS), Briar Tippett (MAGS).
Lawn Bowls: Mackenzie Blucher (St Dominics), Branden Sibly (Lynfield), Liam Van Rijn (Lynfield).
Mountain Biking: Harriet Beaven (Parnell College), Tom Coombes (Massey High School), Charlotte Rayner (Howick College), Elliot Wright (AGS).
Netball: Faamu (Viesea) Ross (Avondale), Holly Fowler (MAGS), Jamie Lee Price (MAGS).
Orienteering: Kayla Fairbairn (St Cuthberts), Sonia Hollands (Rosehill), Jonty Oram (Green Bay), Samuel Peat (Kings), Cameron Tier (WBHS), Alice Tilley (Diocesan).
Puma Sports Educator: Mere Rangihuna (Alfriston).
Rowing: Sarah Anne Smith (EGGS), Marty Davenport (WBHS), Poppy Logan (WGHS), Alexandria Niamh Kerr (EGGS), Calum Ross (AGS), Cameron Webster (WBHS).

Rugby League: Bradley Abbey (St Pauls), Mathew Faitotoa (KBHS), Semisi Havili (St Pauls), Nathaniel Roache (MAGS).
Rugby Union: TJ Faiane (St Kentigern), Blake Gibson (St Kentigern), Akira Ioane (AGS), George Taina (Tangaroa). Girls: Onjeurlina Leiataua (Papatoetoe High School).

Service to School Sport: Beth Beever (WGHS), Perry Cunningham (Kings), Rodney Gordon (AGS), Grant Hansen (AGS).
Softball: Callum Elson (MAGS), Melanie Jacqueline Gallagher (EGGS), Tyneesha Houkamau (Pakuranga), David Hutchinson (MAGS), Kendall Maria Iti (EGGS), Maddix Rice (St Peters).
Squash: Eleanor Epke (EGGS), Hayley Jayne Hughes (EGGS), Henry Pyc (Rosmini), Zac Thomas (AGS), Sion Wiggin (WBHS).
Swimming: Tabitha Baumann (Rangitoto), Gabrielle Fa'amausili (Avondale), Jacob Garrod (Rangitoto), Jane Ip (Rangitoto), Dominic Mildon (Macleans), Maxime Polanski (Liston).
Table Tennis: Ruojia (Roger) Rao (Auckland International College), Dawn En En Ee (EGGS), Dinyar Irani (Pakuranga), Maggie Ngo (St Cuthberts), Victor Pollett (WBHS), Sam Sun (WBHS).
Tennis: Rosie Cheng (WGHS), Kelly Drew (St Kentigern), Paige Hourigan (St Kentigern), William Matheson (St Kentigern), Rhett Purcell (Sacred Heart ), Trent Smith (St Kentigern).
Touch: Ruahei Demant (Mahurangi), Destiny Grace (MAGS), Callum Law (WBHS), Sean Law (WBHS), William Raea (St Kentigern), Maia Jean Watene (St Kentigern).

Triathlon/Duathlon/Multisport: Josie Clow (St Kentigern), Madeline Evans (St Kentigern), Alana Lythe (WGHS), Tim Mudford (St Kentigern), Callum Ross (AGS).

Underwater Hockey: Juliet Bevis (Diocesan), Louis Flavell-Birch (Howick), Rebecca Janette Gatland (EGGS).
Volleyball: Anna Afamasaga (Rangitoto), Mitchell Hallett (Rangitoto), Bethany Hayman (WGHS), Fatu Lafaele (De La Salle), Alani Nicklin (Glenfield), Mariette Tekori (Manurewa High School).
Waka Ama/Outrigger Canoe: Natalie Caitly Maya Barke (EGGS), Kata Brown (Alfriston), Milla Brown (Alfriston).
Water Polo: Ema Carevic (Rangitoto), Ricci Ferigo (Diocesan), Mitchell Goff (WBHS), Annabel Harman (Diocesan), Denzel Niuelua (Sacred Heart), Anton Sunde (Kristin).
Wrestling: Matthew Dowd (Sacred Heart), Douglas Lloyd (Dilworth), Ruth Minturn (Avondale), Brahm Richards (Rutherford).

Yachting: Andrew Mckenzie (Sacred Heart), Jack Simpson (Rosmini), Eliza Wilkinson (Diocesan).