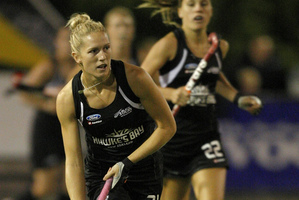 In an ideal world, the women's Black Sticks would have played a couple of games before meeting Australia in this week's Oceania Cup in Stratford.
But the drawmaster has delivered no favours to Mark Hager's side, who will open the five-day tournament by playing their transtasman rivals tomorrow afternoon at the TET MultiSports Centre.
The four-team Oceania Cup also features world No 60 Papua New Guinea and world No 61 Samoa, alongside New Zealand and Australia.
The Pacific Island teams won't offer a stern challenge to the Black Sticks or Hockeyroos but Hager said it was important they were given the opportunity to compete.
``You still try and work on your set plays and your structures and we still try and get those all in place. We still want to play well,'' Hager said in regards to meeting weaker opposition.
``I think the big one for me is we have a role to play in Oceania to help teams like Samoa, Papua New Guinea and Fiji improve because the better they get, the stronger Oceania becomes as well.''
New Zealand, ranked third in the world, haven't played since round three of the World League in Rotterdam in June where they secured qualification for the finals.
As for meeting world No 6 Australia first up this week, Hager wasn't too bothered.
``At some stage we had to play them, whether it was first, second or third then the final. It doesn't really matter,'' Hager said.
``It's always an exciting challenge between the two teams because they're so close. If you look at the history, we win one, they win on and then we win and then they win. So it's been going in that cycle over the past couple of years.''
The Black Sticks endured a couple of late withdrawals to their squad yesterday (mon), with Pippa Hayward ruled out with a quad injury, while Aniwaka Roberts has been unwell recently and hasn't come right.
Hayward has been replaced by Cantabrian Olivia Merry, while 22-year-old Aucklander Danielle Jones will come in for Roberts.
Hager has picked three debutantes for his squad with Midlands defender Brooke Neal, Auckland defender Liz Thompson and Canterbury striker Sophie Cocks all set to earn their first international caps this week.
As New Zealand builds towards next month's World League Final in Argentina, Hager said the Oceania Cup served as a good time to work a few newcomers in.
``The thing is the debutantes deserve their positions,'' Hager said. ``It's not that they haven't deserved to be here. At the moment they're the ones that have performed the best during the National Hockey League and during our trainings over the last month.''
After meeting Australia tomorrow, New Zealand play PNG on Thursday before a rest day on Friday. The Black Sticks then meet Samoa on Saturday with the finals to be played on Sunday.
The men's tournament runs concurrently.
- APNZ