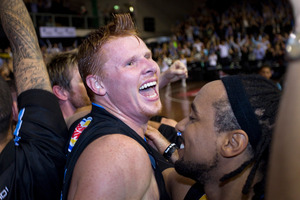 Gary Wilkinson expected to be reading up on the law this year rather than the Breakers' playbook but he said it took about "two seconds" to decide to return to a club he won two ANBL titles with.
The 31-year-old arrived in Auckland this morning and will play in Thursday night's game against the Adelaide 36ers at the North Shore Events Centre. How much will depend on how he feels and how much the Breakers need him but his presence has given a lift to a team that has made a poor start to the season with only one win in four games.
Wilkinson didn't expect to be playing basketball this year. He declined a contract in Europe so he could spend time with his ill father, who has since died, and also planned to go to law school. It's something he wants to pursue once his basketball career is over but the chance to return to the Breakers was too good to turn down.
"It was an easy decision," he said. "It took two seconds. I love it here.
"It's like coming home. It was a great feeling [catching up with the team again]. I'm still riding that high of coming back to New Zealand and being around people I love and care about. It's about translating that into energy on the court and hopefully translating that into wins."
It's why the Breakers took the drastic step so early in the season of cutting import Darnell Lazare as well as Kiwi Jeremiah Trueman to fit Wilkinson into the points cap.
Coach Dean Vickerman has described him as a player who was like a "peacock" who could talk the talk both on and off the court. It places considerable pressure on Wilkinson but he has delivered before, averaging 16.2 points and 5.7 rebounds a game in the two seasons he played with the Breakers and winning championships on both occasions.
It would be unrealistic to expect the 2.03m American, who won titles in Estonia and Puerto Rico in the past 18 months, to slot back in straight away but it hasn't stopped suggestions that he is being painted as something of a saviour.
"That's the perception from the outside but, for us, it's about bringing in a new piece in the puzzle," said assistant coach Paul Henare, who played with Wilkinson in 2010/11. "Our job now is fitting him in as quickly as possible. It's hard to do that in two days, especially with him not training today so tomorrow it will be about getting him familiar with some of the sets and systems, and his teammates. On Thursday, we will see how it goes."
The biggest adjustment might be around the new rules interpretations, which have limited the Breakers' effectiveness. It was something that blunted Lazare's game - he was signed before the changes were announced - but Wilkinson is a bigger scorer, particularly from outside, and a match winner.
The Breakers proved last season they could win without him when they claimed their third consecutive title. Right now they're very happy to have him back.
- APNZ