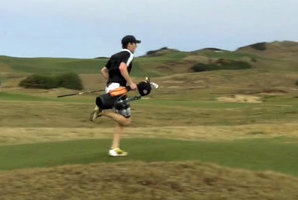 Nick Willis struggled to get the balance between speed and accuracy and finished 13th in the 25-strong field at the speedgolf world championships in Oregon yesterday (NZT).
The Olympic silver medallist had targeted a top-three finish and it looked possible when he lay in sixth at the end of the first day, after a round of 86 in 44 minutes 20 seconds for a score of 130.20. He was quicker in his second round, finishing in a time of 43:07 but his golf suffered as he took 97 shots for a score of 140.07.
His total of 270.27 was well behind that of winner Rob Hogan from Ireland, who won in a total of 236.55 (rounds of 77 and 79 in 39:21 and 41:29 respectively). Hogan had the fastest time both days, with Willis second fastest both days.
The scoring format of speedgolf is total strokes, plus total minutes and seconds it takes the player to complete their round.
"Blew up in the 2nd round!! 97 in 43mins. Amazing experience at @BandonDunesGolf this weekend though. Thanks to all," Willis tweeted.
He at least finished ahead of fellow Olympic 1500m medallist Bernard Lagat who finished 24th after rounds of 118 and 110.
The world record for a single round is held by American professional golfer Christopher Smith who shot 65 in 44:06 for a score of 109.06.
Watch a video of Nick Willis potting all 18 holes on day one of the Speedgolf World Championships here:
- APNZ