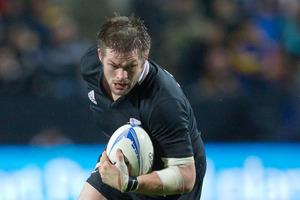 The Richie McCaw and Dan Carter double act is likely to delight the 27,000 spectators inside Tokyo's Prince Chichibu Memorial rugby ground for the Japan v All Blacks test on Saturday, regardless of the result.
Their injuries this season, and subsequent need for extra game time, mean they are a bonus addition for an expectant crowd but their appearance will also add value to their younger teammates' experience.
In what is a developmental tour for the All Blacks (and a lucrative one, of course), having McCaw and Carter there can only give it extra gravitas. Seeing how the likes of 120-test McCaw and Carter, on 97 caps, prepare for a test can only be a good thing for young men such as Luke Whitelock, Steven Luatua, Dominic Bird and Francis Saili.
McCaw and Carter are almost guaranteed to start the match but it won't be a feast and famine scenario in terms of test caps, even allowing for the eight players travelling straight to Paris for the France test.
"When the team gets named I think people will be pleasantly surprised how much experience that group does have now," coach Steve Hansen said on the eve of the All Blacks' departure. "I think we've had something like 17 injuries this year so there's been plenty of opportunities for everybody to get rugby. It has been going along quite seamlessly really and experience - there's not a lot of 50-test players but there's quite a few with 10, 20, 30 test matches, and that's more than enough to be able to get the job done properly."
Players such as Brodie Retallick, Aaron Smith and Ben Smith are into their 20s in terms of test caps, while Owen Franks, who hasn't played since injuring his groin against Argentina at La Plata on September 29, has 51 caps; Ma'a Nonu 85.
Hansen added: "It's exciting ... But it's all got to be managed, you've got to make people feel like they're valued and to get the best out of them being valued is important. It's an opportunity to show we do value them and an opportunity to say 'righto, we've got four or five leaders staying at home, we've got to fill that breach, here's your opportunity to step up and do that and have a different type of experience building into a test match'."