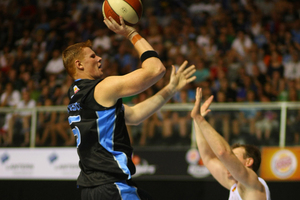 Gary Wilkinson is heading back to the Breakers. The popular import will return to Auckland to replace fellow American and power forward Darnell Lazare who has been released by the club.
Wilkinson played a key role in the Breakers' first two championships before departing for Estonia where he was named season MVP playing with BC Kalev/Cramo last season.
The three-time defending champions sit on the bottom of the ANBL table for the first time since 2005 with just one win from four games.
Wilkinson left the Breakers in June last year with two championship rings in two seasons and a reputation as a fan favourite for both his production and frequent displays of enthusiasm on the court.
The American led the club with 16.6 points per game in the 2011-12 season.
Breakers head coach Dean Vickerman said bringing a player such as Wilkinson back into the fold may not have made the calls any easier, but has at least made them more understandable for all involved.
"Returning a club legend who has won two championships here, you know exactly what you are going to get, it lessens the risk and certainly there is a comfort level with our core group of players who have been here for a while now as to what he will bring to the table.
"What has been missing in this team so far this year is the vocal extrovert, we are quite a quiet group and when we said 'what can we change a little bit', it was that factor perhaps more than the skill set, the guy with the infectious energy, that is certainly what Gary will bring."
Centre Jeremiah Trueman has been placed on a waiver to enable the club to stay under the required points cap with their 10 fulltime rostered players.
Breakers general manager Richard Clarke said it is not a decision taken lightly in view of the two players who are affected by the return of Wilkinson.
"Having to work within the points system does create some very hard calls, such as this one on Jeremiah. Nothing has changed in terms of his role, the minutes required or the contribution, but as we only have 3 points left available with Gary coming in, it means Jeremiah's position is also impacted. This is a really tough outcome for Jeremiah and a very hard call for the club, which is the reality of having to work under both a salary cap and points cap system.
"Our off season recruitment was based on how the game was played last season, we - along with all clubs, have then had to make adjustments for a different set of refereeing interpretations. The guys have been making good adjustments, but it is quite a different game to previous seasons and the coaches felt they needed a different mix of skills in the group to really compete under the new interpretations."
The Breakers host the Adelaide 36ers on Thursday night with Wilkinson set to be available for the game after arriving in New Zealand tomorrow.