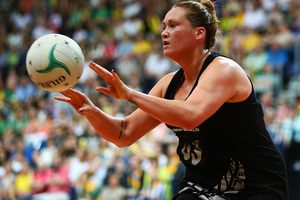 New Zealand 68
Malawi 49
With the Commonwealth Games just around the corner, the Silver Ferns end of year series against Malawi presented the opportunity for Waimarama Taumaunu to get some answers to the lingering questions over her squad.
Tonight's messy, disjointed and unpolished effort in their 68-49 win provided her with those answers, but it wasn't the ones she would have been hoping for.
After a 70-32 win over the world number five ranked Malawi side in Thursday's night's opening test in Wellington, the Ferns turned in a disappointing effort in Napier last night, with only a 20-11 final quarter rampage saving them from blushes. Trailing 34-22 at halftime, the spirited visitors produced an impressive third spell, outscoring the Ferns 16-14 to bring the scoreline back to 10 heading into the final period. At one point in the third quarter Malawi closed to within seven of the Ferns, as continued breakdowns between Joline Henry, who moved from wing defence to centre at halftime, and the shooting circle lead to an alarming error count.
This will be the test that will surely finally bring an end to experiment with Laura Langman at wing attack.
It wasn't that Langman makes a poor wing attack, it's just that without the midcourt dynamo controlling the tempo at centre, the Ferns attack was shambolic.
The search for a back-up wing defence also continues, with Katrina Grant struggling with her positional play in her second outing on the wing after being introduced at halftime.
Last night's test also confirmed the captain Casey Kopua's talents are best-served in the goal defence position. Since Kopua was moved to goal defence a few seasons ago, there have been calls for her return in the goal keep position, where she first made a name for herself as a teen. But her through-court attack was sorely missed for the first three quarters, before she was thrown the goal defence bib in the final spell as the Ferns sought to finish strongly.
It is probably too soon to judge the progress of Ferns newcomer Katarina Cooper, who was handed her first test cap last night as her ultimate netballing fairytale story continued. The 27-year-old Otaki mother-of-two was overlooked for an ANZ Championship contract for the first four years of the competition, before landing a spot at the Central Pulse in 2012. But her debut season came to a devastating end when she suffered a serious knee injury and when she missed out on a Pulse contract this season, it was thought that would be the last we saw of Cooper.
But Silver Ferns coach Waimarama Taumaunu threw her a lifeline earlier this year when she invited Cooper to trials, and later included her in the wider squad.
She made a circumspect start to her international career, giving away possession on her first centre pass, but worked herself back into the game before she was replaced at halftime after copping a corked thigh mid-way through the second spell. Cooper produced some impressive patches of play, with her drives to the top of the circle particularly spectacular, but her consistency remains a problem.
Cooper became the fourth player debut for the Ferns this season, following Courtney Tairi, Shannon Francois and Te Huinga Reo Selby-Rickit.
While the Ferns made a lot of unforced errors, credit must go to the gutsy Malawi side, who applied themselves well on defence all night, disrupting the timing and rhythm of the New Zealanders.
Tactix-bound shooter Mwai Kumwenda was particularly impressive, shooting 42 of her side's 49 goals, and wowing the Napier crowd with her athletic leaps.
Kumwenda will likely be a target for the Ferns defence in Thursday's final test in Hamilton.