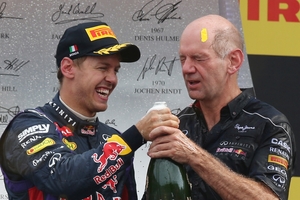 Assuming Sebastian Vettel can successfully navigate his way through the horrendous dust and haze that afflict the Indian Grand Prix, he is almost certain to end the weekend a four-time world champion.
If or when it happens, he will be entirely deserving of all the accolades that will come his way.
Red Bull's brilliant young German should not get too comfortable with his position at the pinnacle of Formula One, however. If, as Lewis Hamilton suggested a few weeks ago, his dominance of the sport is sending fans to sleep, then the man supplying the va-va Valium is Red Bull's technical guru, Adrian Newey.
Newey, by his own admission, is starting to tire of the Formula One treadmill: "I'm 54 now and there are lots of other things I would like to be involved in," the Briton concedes. 'At some stage, I'm not exactly sure when, I do feel it will be time to become involved in other things. Formula One is such an all-consuming sport, I think it's very hard to be involved in it properly and also be involved in something else at the same time."
The fascinating question is what that "something else" might be when Newey decides to hang up his 4B pencil and draughtboard. What does a self-confessed petrolhead who has won nine constructors' titles with three different teams, who is about to win a fourth straight championship double with current employers Red Bull, and has become the pre-eminent Formula One designer of this and arguably any other age, have left to dream about?
"Crikey," Newey smiles. "Maybe the America's Cup, who knows?"
Newey has declared an interest in the America's Cup before, of course. All that wind and carbon-fibre naturally appeals. But it does seem now as if he really could be preparing to make the leap.
Not as soon as next year. Newey is already committed to Formula One's radical new engine regulations, with the incorporation of V6 turbos and associated hybrid technologies posing the sort of re-packaging conundrum at which his brand of genius excels. But perhaps shortly after.
Newey admits he was gripped by Oracle Team USA's dramatic comeback from 8-1 down to beat Team New Zealand 9-8 last month; by the sheer spectacle of 72-foot wingsail catamarans careering around San Francisco Bay at 80km/hr.
He even admits he has had offers from the sport, although he will not disclose from whom. Could Sir Ben Ainslie, who helped to inspire Oracle's comeback and is searching for backing and talent to launch his British team, have been on the phone?
"It's a bit too late [for the next Cup] isn't it?" Newey answers, neatly dodging the question. "My immediate future lies in Formula One. I'm fully committed to next year and the new regs."
What about a future Red Bull-funded entry then?
The energy drinks giant sponsored the recent Youth America's Cup and it would be one way for billionaire owner Dietrich Mateschitz to keep Newey's brains on his books.
"Maybe. It's not something I have spent a lot of time talking to Dietrich about, I'm afraid," he smiles.
What Newey will say is that he believes he has something to offer in the America's Cup arena, even if he has no idea how effective he might be.
"I'm very aware of the fact that I'm currently doing what I aspired to do, probably since the age of eight or 10, and have made my profession ever since I graduated," he says.
"In yachting there are my opposite numbers who have been doing the same thing in their world. To think you could suddenly come in and overturn that wealth of experience would be very arrogant.
"The America's Cup, or yachting I should say, is in many respects even more difficult than motorsport, certainly than circuit racing where there is a fairly defined operating window. In yachting, you have the wind shear effect from the top of the boat to the sea level, shifty breezes, tides, all that stuff. It's much less well defined. The circuit conditions are effectively never the same twice.
"But what might be possible might be to come in on a slightly more 'consultant' basis, to contribute by applying my Formula One experience to that role."
Meanwhile, no driver other than Vettel has led a lap of a grand prix here. He arrives in New Delhi with a 90-point lead in the world championship and five consecutive victories since the end of August. So its small wonder that he is the favourite to clinch a fourth consecutive world championship crown by winning the Indian Grand Prix this evening.
Nico Rosberg, a pole position contender on a regular basis early in the season, is just one rival who expects Red Bull to be unbeatable this weekend, and that the best Mercedes can hope for is third place.